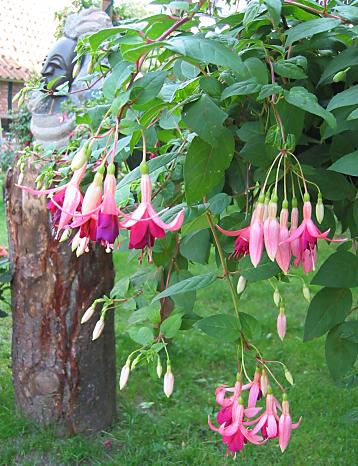 Aanvankelijk klopte er niets van de korte beschrijving in de cultivarinventaris van de NKvF die meldde "rood (kelk) roze (kroon)" - de kelk is lichtroze en de kroon is purper...
Bovendien werd de plant beschreven als opgaand, terwijl het duidelijk een hanger is. Waarschijnlijk hoorde de omschrijving helemaal niet bij deze plant. En ziedaar... na een aantal jaren, nu is het 2021, is de beschrijving inderdaad aangepast aan de werkelijkheid.


In the past two descriptions got mixed up in the cultivarlist of the NKvF, the old one seemed to belong to a different plant. But is has been fixed recently (2021).