Toevoeging / Addition Nov. 2007
Jan Brill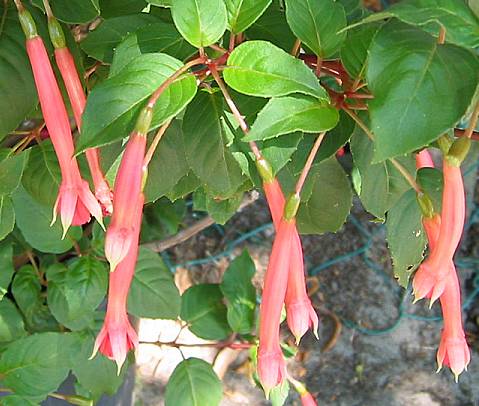 Jan Brill Weeda 1993 NL 3268 HH E/tr roze D.roze / B/T S pink orangepink

Ouders / Parentage : (F. magdalenae x F. fulgens rubra grandiflora) x 'Waternymph'


'Jan Brill' staat in de cultivarlijst als een triphylla-type, vanwege de langbuizige bloemen, maar er zit niets in van Fuchsia triphylla.
Het is een cultivar waarin o.a. F. magdalenae zit, dezelfde kruisingsouder die ook de prachtige WALZ-muziekinstrumenten van Waldenmaier gemeen hebben.
De bloemen hebben wel wat gemeen met die van 'WALZ Luit', maar hebben een soort "buikje" halverwege de buis en zijn lichter van kleur, zalmroze.
Van de eigenschappen van 'Jan Brill' weet ik niets, ook niet of de plant in te kuilen is. Bij kruisingen van F. magdalenae geeft dat immers weleens moeilijkheden.
In the cultivar-list 'Jan Brill' is called a triphylla-type for its longtubed flowers, but there's nothing in it of Fuchsia triphylla itself.
In its parentage it has the beautiful species
F. magdalenae, which is also present in all the lovely WALZ-musical instruments of Waldenmaier.
The flowers of 'Jan Brill' show some resemblance with those of 'WALZ Luit', but have a sort of "belly" in the middle of the tube, and are paler in colour, more salmon-pink.
I don't know anything about the growing qualities of 'Jan Brill', neither if it's a difficult one to overwinter or not.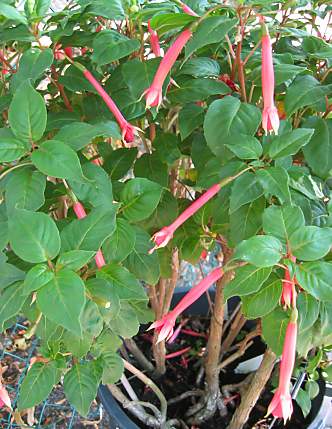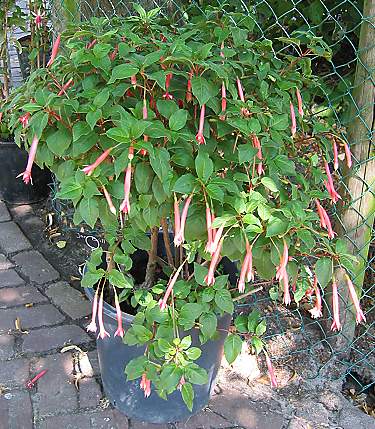 De bloemen groeien niet in trossen zoals doorgaans bij triphylla-typen
The flowers don't grow in racemes as is usual with triphylla-types.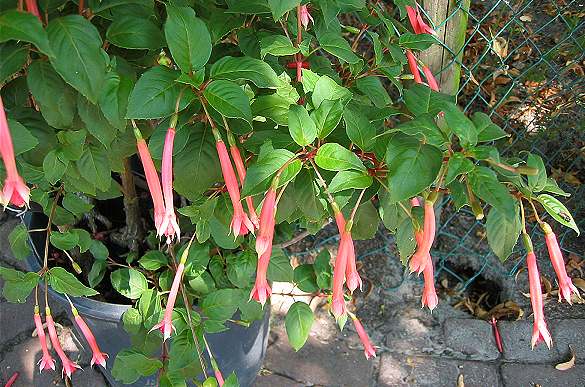 Foto's genomen op de Flora te Ootmarsum, 7 augustus 2003
Photos from the Flora at Ootmarsum, 7 August 2003


Ontvangen in november 2007 / Received in November 2007 :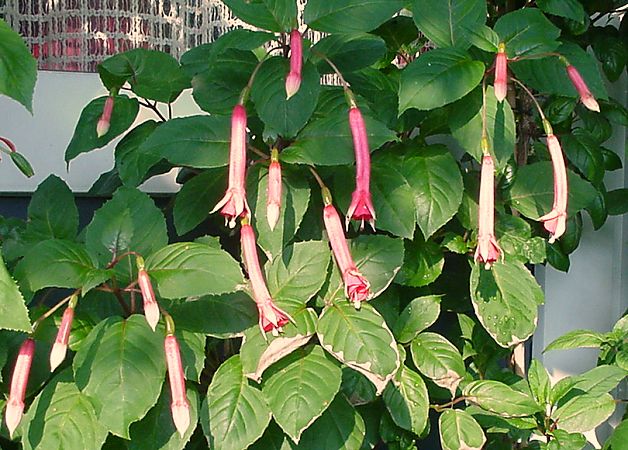 Hier nog drie foto's die ik ontving van dhr. R. Brouesse, die deze fuchsia in Zeeuws-Vlaanderen had gekocht 4 jaar geleden. Hij was de naam vergeten, maar herkende 'm op mijn website (zie foto's uit Ootmarsum, hierboven).
Zijn bevindingen waren dat het een vrij makkelijke plant is, die echter niet zo heel rijk bloeit. In de winter houdt hij de plant, die hij in oktober snoeit en van blad ontdoet, in een schuur met een temperatuur niet lager dan 5°C.
De plant is een 'halfhanger', die evt. ook als struik kan worden gekweekt.
Here three more pictures I received from Mr. R. Brouesse, who bought this fuchsia in Zeeuws-Vlaanderen (in the Southwest of the Netherlands) about 4 years ago. He had forgotten its name, but recognized it on my website (see above photos from the show at Ootmarsum).
He found the plant rather easy to grow, but not very free-flowering. In winter he keeps it, pruned and stripped in October, in a shed not colder than 5°C.
The plant is a semi-trailer that can be grown as a bush too.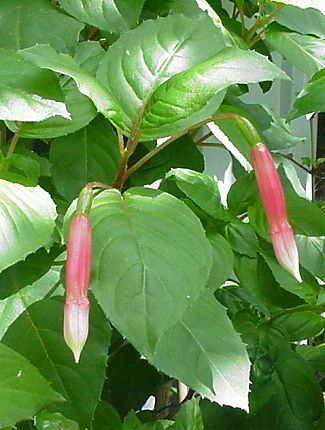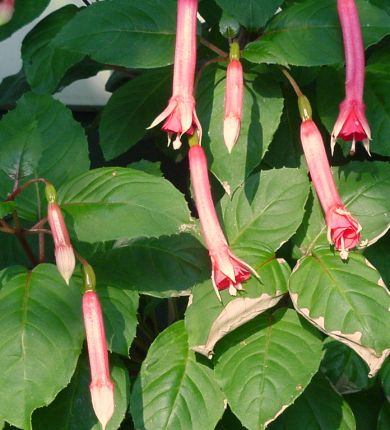 De witte randen aan sommige bladeren komen waarschijnlijk door te felle zon, het is geen bonte variėteit.
The white rims on some leaves were probably caused by scorching sunshine, it is no variegated cultivar.