15 juli 2004: rijpe bessen / 15 July 2004: ripe berries


Fuchsia arborescens / paniculata




Hiernaast een digitale foto (sterk vergroot) van de aanleg van drie bloemtrossen van Fuchsia arborescens in een driedelig groeipunt (helaas beschadigd door insecten). Deze fuchsia vormt vaak kransen van drie bladeren per knoop, maar niet altijd.

On the left, a digital photo (much enlarged) of the initiation of three racemes of F. arborescens, in a triple growing-point (a bit damaged by insects, though). This fuchsia often makes whorls of 3 leaves per node, but not always.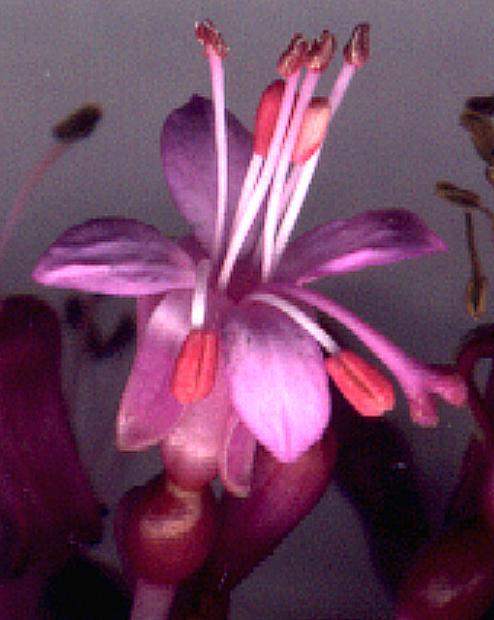 Dit bloempje is 11 x vergroot. Duidelijk zichtbaar zijn de vier oranje helmknoppen, die nog niet zijn opengesprongen.
Het stuifmeel is geel en dus minder opvallend, zoals aan de vier andere, rijpe, helmknoppen te zien is.
Bij deze jonge bloem staan de kroonblaadjes horizontaal uit, terwijl de kelk geheel naar achteren langs de buis klapt. Na enige tijd vallen de kroonblaadjes af.

This flower is 11 x enlarged.
You can see clearly the 4 orange anthers that haven't opened yet.
From the other four ripe anthers a bit of yellow pollen emerges - less striking than the bright orange colour of the unripe anthers.
In this young flower the petals are horizontal, while the sepals already have drawn backwards along the tube. After some time the petals will drop off.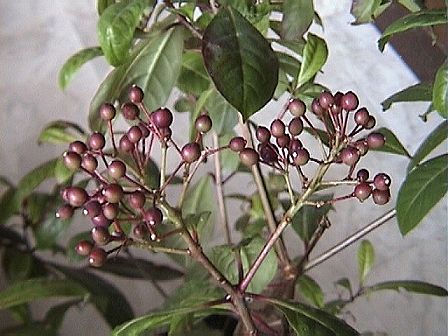 De plant stond in februari op de slaapkamer in bloei, en ziehier enige bessen, die nu rijpen (april 2001).
In the bedroom-window the plant had flowers in February, and here are some ripening berries (April 2001).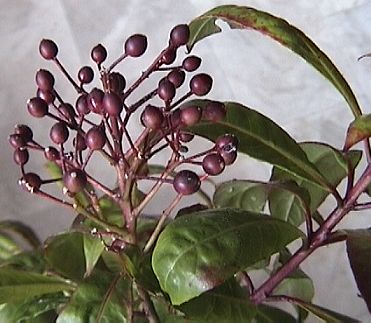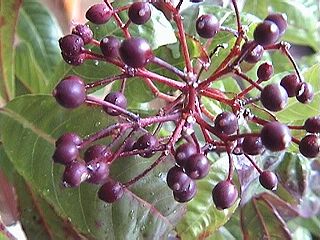 Als de bessen rijp zijn, worden ze donkerpaars en krijgen een "dauw" over zich als blauwe druiven;
deze zijn nog niet zover.
Once the berries are ripe, they're dark-violet and get this "dewy" effect like blue grapes; these aren't that far yet.

nieuw 15 juli 2004 / new 15 July 2004 (scans September 2001)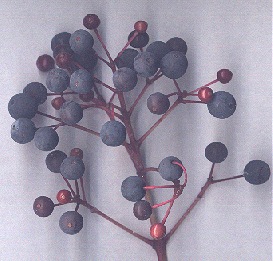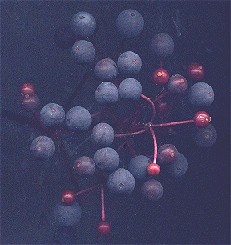 Rijpe bessen (ware grootte, hieronder ± 3 x vergroot) / Ripe berries (real size, below ± 3 x enlarged)