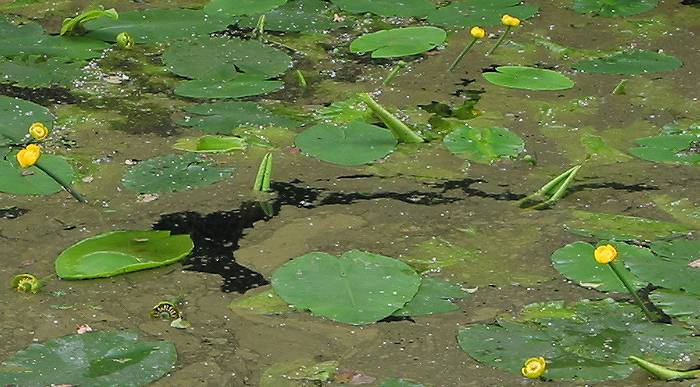 De gele plomp is eigenlijk een waterlelie, maar met kleinere, minder fraaie bloemen, die op 't eerste gezicht meer lijken op dotterbloemen, die ook in of aan het water groeien, maar daar zijn ze niet aan verwant. Het blad is bijna gelijk aan dat van de waterlelie, maar iets langwerpiger.
Op de foto hierboven ziet men jonge, rijpe en uitgebloeide bloemen, en behalve bladeren die plat op 't water liggen ook jonge bladeren, die nog opgerold boven het drabbige water uitgroeien en zich pas daarboven zullen ontvouwen.
The yellow waterlily, in America also called yellow spatterdock, is much smaller and less striking than the white or pink waterlily, it looks more like a marsh-marigold (also growing in or beside the water), but there's no relationship. The foliage is similar to that of the bigger waterlily, only a bit more oblong.
In the picture above you see young, ripe and faded flowers, and leaves lying flat on the water, but also young leaves still rolled-up emerging from the muddy water, unfolding when they're on top of it.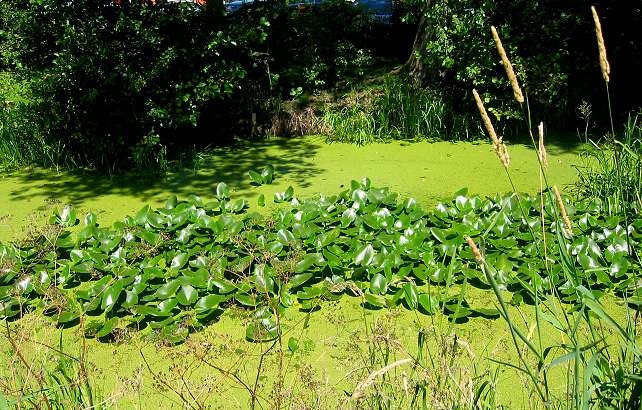 Een hele kolonie gele plompen in Eernewoude / A large group of yellow spatterdocks at Eernewoude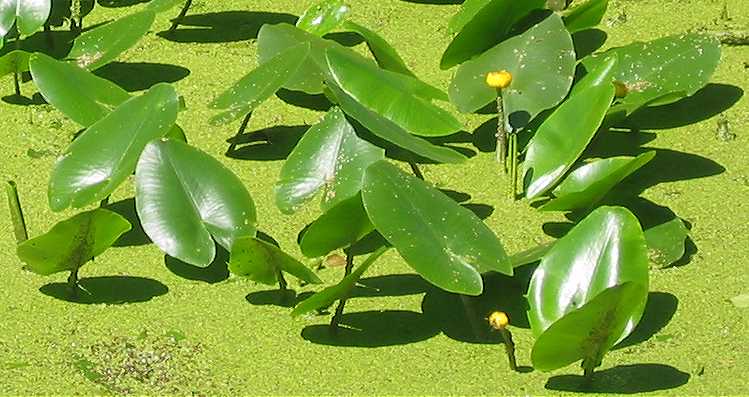 Bladeren die boven water uitgroeien, dat is bedekt met eendekroos. Deze bladeren zijn opvallend gaaf, meestal zijn ze wat beschadigd en met rotte plekken, drijvend op drabbig, meestal ondiep water (zie foto hieronder!).

Leaves emerging from water covered with duckweed. These leaves are very fresh and stainless, more often they're full of holes and rotten spots, floating on muddy, in most cases shallow water (look at picture below!).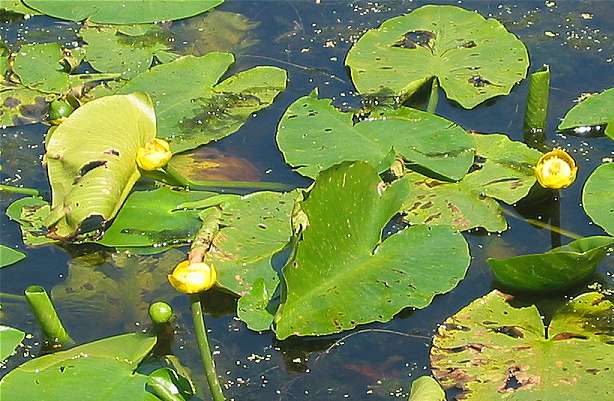 | | | |
| --- | --- | --- |
| Op bovenstaande foto zijn verschillende stadia van de bloei aanwezig: een ronde groene knop, twee jonge bloemen, een iets rijpere bloem, en linksboven in beeld een donkergroene, flesvormige vrucht. | | In the above picture various stages of flowering are present: a round green bud, two young flowers, a somewhat riper flower, and on the left a darkgreen, bottle-shaped fruit. |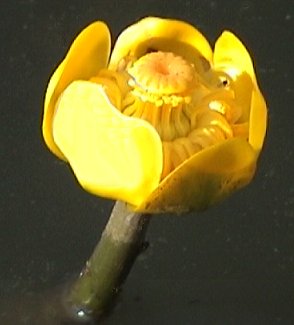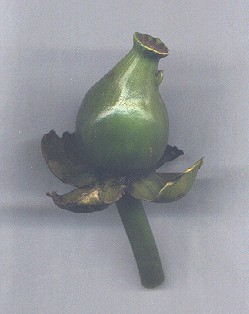 Hierboven de bloem (gefotografeerd op afstand), hiernaast een vrucht (uit 't water geplukt en gescand).
De planten waren in de hete zomer van 2003 zeer talrijk, evenals vele andere waterplanten. Toch net niet dicht genoeg bij om ze vanaf de oever in detail te kunnen bekijken en fotograferen.
In oktober echter, toen de planten bijna verdwenen waren, slaagde ik erin een vrucht uit 't water op te vissen. De oeverbegroeiing was inmiddels ook minder dicht zodat ik er beter bij kon.
Above left the flower (photo taken from a distance), above right the fruit (picked out of the water and put on the scanner).
The plants were quite numerous during the hot summer of 2003, just like many other water plants. Yet not near enough to have a detailed look at them from the banks, or to take a good photo.
In October, when the plants were almost gone, however, I succeeded to get hold of a fruit lying in the water. The vegetation on the banks had diminished too in that time of the year, so I could reach it at last.
De vrucht nader bekeken / A closer look at the fruit