Kurkeik - Cork oak - Quercus suber (Fagaceae)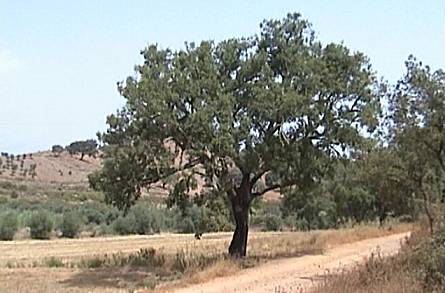 Deze sierlijke boom met zwarte stam is een kurkeik, in de Algarve in Portugal.
This graceful tree with its black trunk is a cork oak, in the Algarve in Portugal.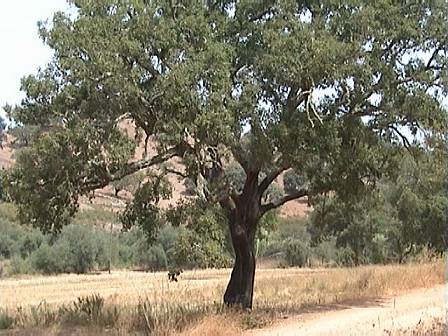 De kurkeik, één van de 500 soorten eiken op de wereld,
is een mediterrane boom die zich beschermt tegen hitte en uitdroging door een sponzige bast, die de mens is gaan gebruiken o.a. om flessen af te sluiten en vloeren te beleggen: kurk

The cork oak, one of the 500 oak species around the world, is a mediterranean tree which protects itself against heat and dehydration by a spongy bark, which man uses for closing bottles, laying floors, and many other things: cork.
Op de zwarte stam van deze kurkeik (omgeven door toeristen, ik was er één van) staat een witte 8. Dit wil zeggen dat er in 1998 kurk van is geoogst. Om de 9 jaar wordt er kurk geoogst, men houdt dit bij door het laatste cijfer van het jaartal op de stam te schilderen.

On the black bark of this cork oak (surrounded by tourists, I was among them) a white number 8 is visible. It means, that in 1998 cork has been taken from it. This happens every 9 years, people there paint the last number of the year on the trunk to remember.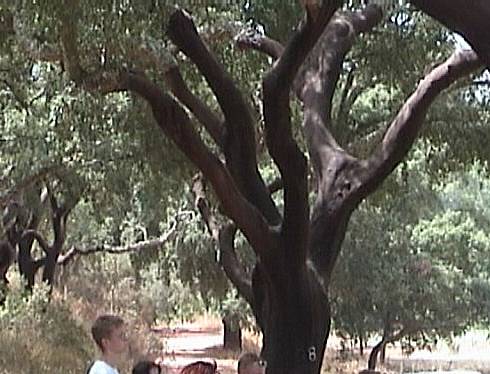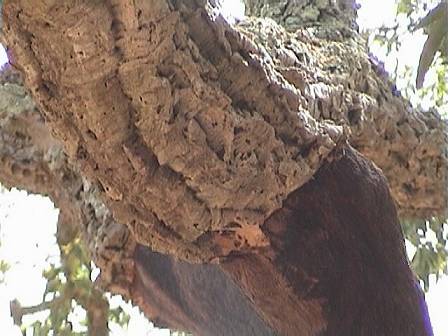 Alleen de stam wordt "ontkurkt", de takken blijven ongemoeid. De stam vormt na het afnemen van de bast heel snel een zwarte buitenlaag om zich weer tegen de hitte te kunnen beschermen. Kurkeiken kunnen 250 jaar oud worden, maar waarschijnlijk veel ouder als ze niet van hun bast werden beroofd.

Cork is only taken from the trunk, the branches may keep it. After removing of their bark the trees quickly make a black layer on the trunk to protect themselves from heat again.
Cork oaks reach an age of about 250 years, but probably could become much older if they weren't bereft of their bark.
De kurklaag wordt in één stuk van de stam gepeld, en pas na een periode in het water en een poos drogen is de kurk dicht genoeg en bruikbaar.
De eerste kurk wordt van de stam genomen als de boom 30 jaar oud is; die noemt men maagdekurk en deze is slecht van kwaliteit.

The corklayer is peeled from the trunk at once. Only after a period in water and a period of drying, cork is dense enough and ready for use.
A tree must be 30 years old before the first cork can be taken off - this low-quality product is called virgin cork.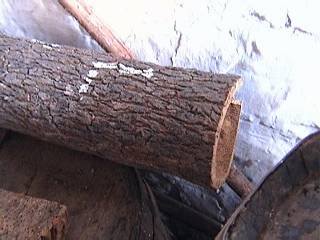 Een stukje onbewerkte kurk.
Ons werd verteld, dat Portugal 70% van alle kurk levert, en dat door het daar in het zuiden ideale klimaat er ook de beste kwaliteit vandaan komt.

A piece of raw cork.
We were told, that 70% of the world cork production comes from Portugal, and because of the ideal climate in the South it's got the best quality.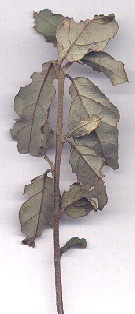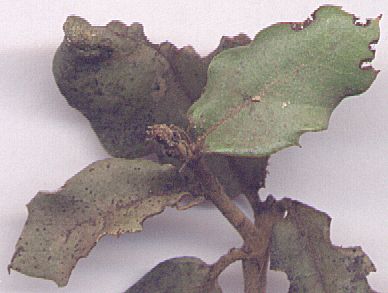 Een twijgje van een kurkeik, onder- en bovenkant. Rechts detail van middelste foto (4 x vergroot).
Het blad (hier helaas wat verdroogd na vervoer) is veel kleiner dan dat van eiken uit de gematigde luchtstreek, ook om verdamping van het schaarse water tegen te gaan.
A twig from a cork oak, under- and upperside. On the right, a detail of the upperside (4 x enlarged).
The leaves (here a bit dry after transport) are a lot smaller than leaves of oaks in the temperate climate zone, also to avoid evaporation of the scarce water.