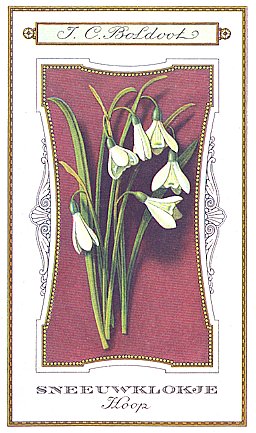 No. 15 - Sneeuwklokje - Snowdrop
Galanthus nivalis (Liliaceae)


Sneeuwklokjes zijn de eerste bolgewassen die hun bloemen laten zien in het vroege voorjaar - soms al midden in de winter, als het niet al te koud is zoals in januari 2007. Bij een lage maar vorstvrije temperatuur kunnen ze wel een maand of langer bloeien. De foto naast de kaart laat duizenden sneeuwklokjes zien, in ons plaatselijk park het Bos van Ypey waar ze in de zeventiger jaren werden aangeplant door een kweker die jaarlijks bolletjes wilde oogsten voor de handel. Hij is maar één keer teruggeweest, en sindsdien is het park iedere winter/voorjaar als bedekt met een laagje sneeuw, dat bij nader inzien uit ontelbare sneeuwklokjes blijkt te bestaan!
De betekenis van deze bloem, als eerste lentebode, is hier wel duidelijk: "Hoop".

Snowdrops are the first bulbs showing their flowers in early spring, or sometimes in winter, if it's not very cold like in January 2007. At low temperatures not below freezing point they can last for more than a month. In the picture next to the card, thousands of snowdrops cover the ground in the Bos van Ypey, our village park. Around the seventies they were planted by a grower who wanted to harvest bulbs every year, to sell these, but he came back only once. So ever since the park is covered with a tender layer of 'snow' every winter or early spring, which proves to consist of innumerable snowdrops!
The meaning of the Dutch word Hoop is: 'Hope'. One can understand this, for these flowers are the first sign of spring.


Gedichten over sneeuwklokjes / Poems about snowdrops :

Sneeuwklokje - Gerard Lenting
Sneeuwklokje - Alfred Listal (antiek boekje met illustraties)

The Snowdrop - Anna Laetitia Barbauld (1743-1825)
All kinds of everything - Dana (winner songfestival 1969).