Phyllis - Brown 1938 GB O HD rozerood rozerood / B S/SD pinkred pinkred

Ouders onbekend /Parentage: unknown

Deze plant vormt vaak 5- of zelfs 6-tallige bloemen / This plant often has 5- or even 6-sided flowers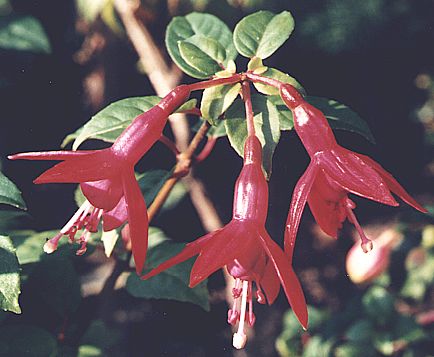 'Phyllis' is een vrij algemene, sterke fuchsia, die bovendien als winterhard te boek staat.
'Phyllis' is a rather common, strong fuchsia, and known as winterhardy.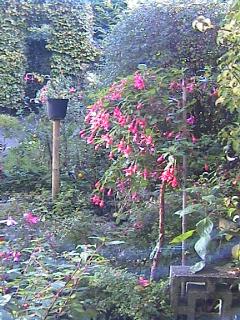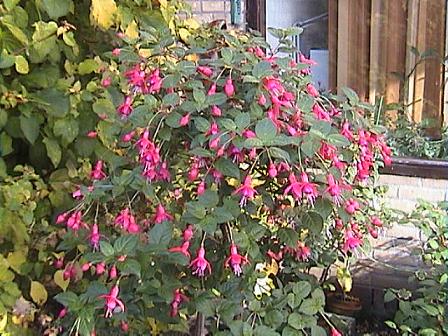 Phyllisboompje in mijn achtertuin. De plant is minstens 8 jaar oud. Omdat het op deze plek steeds door katten als krabpaal werd gebruikt, heb ik het op een andere plek gezet, maar hier kwam het beter tot z'n recht.

Phyllis-standard in my backyard. The plant is at least 8 years old. Because in this spot cats always chose it as scratching-pole, I had to put it somewhere in my front garden, but it's not as decorative there.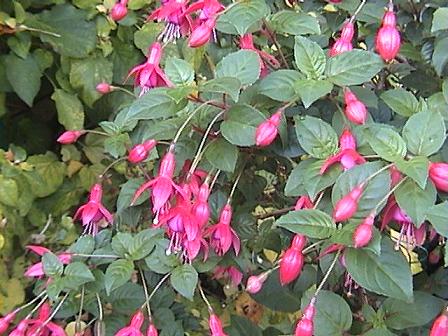 Phyllis is een opgaande plant, maar vormt heel lange takken waardoor hij erg onregelmatig en "wild" wordt als er niet gesnoeid wordt. Dan lijkt 't een halfhanger, omdat de takken over de grond slepen. Het duurt lang eer de buigzame stam sterk genoeg is om op zichzelf te staan, er zal de eerste jaren een stokje naast moeten voor steun.
Phyllis is an upright cultivar, but not being pruned it forms very long branches giving a half-trailing impression.
It takes long before the bendable trunk is strong enough to stand alone. A stick to support it will be needed during the first few years.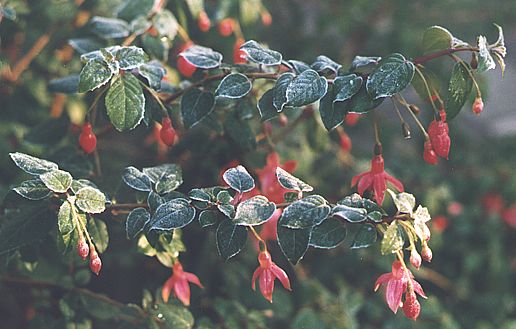 Dit lijkt een bontbladig exemplaar, maar is het niet: er zijn randjes ijs langs de bladeren. Ook een winterharde fuchsia houdt hier niet van, al gaat 'ie niet direct dood. Zo'n potplant kan men trouwens echt beter binnenhalen, en een kroonboompje helemaal - de top zal 't zeker niet redden. Blijft het toch buiten staan, dan zal het hooguit van onderen nog uitlopen in het volgende voorjaar.
A variegated plant? No, there's ice around the leaves. Even a winterhardy fuchsia doesn't like this, even though it won't die immediately. A potplant shouldn't stay outside anyway when it freezes, and a standard certainly won't survive - at the best there will be some new shoots at the foot of the plant the next spring if it's been left outside.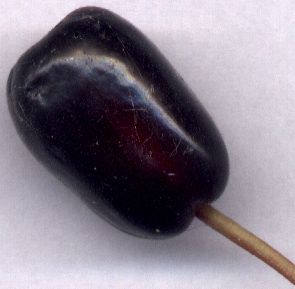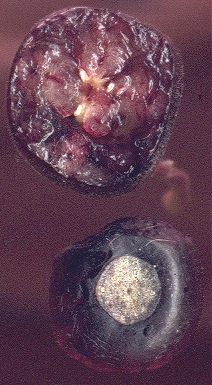 Links: doorsnede knop (2 x vergroot); midden en rechts: vrucht + dwarsdoorsnede (4 x vergroot).
De vruchten van 'Phyllis' zijn vierkantig, verkleurend van helderrood naar diep donkerpaars tot zwart.
Left: inside of bud (2 x enlarged); centre & right: fruit + cross-section (4 x enlarged).
'Phyllis' has square fruits, when ripening they turn from clear red to darkviolet or black.