Poppenhuisfuchsia's / Fuchsias for a doll's house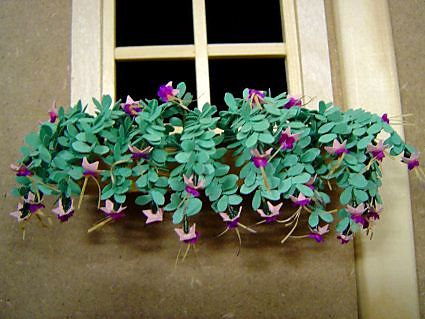 Deze foto leek me op het eerste gezicht een bloembak met fuchsia 'Lambada' aan een echt raam, maar het blijkt een poppenhuisfuchsia te zijn, schaal 1 : 12.
Ik kreeg hem via e-mail van Mark, "De kleine timmerman", die het bouwen van poppenhuizen als hobby heeft.

This picture seemed to me a flowerbox filled with fuchsia 'Lambada', attached to a real window, but it proved to be a tiny fuchsia (scale 1 : 12) on a doll's house's window.
I got it by e-mail from Mark, "The little carpenter", who's hobby is the building of dolls' houses.