Maxima - Roes 2002 NL AFS 4795 O HD donkerroodpurper donkerpurper / B S/D dark-redpurple dark-purple

Ouders / Parentage: 'Rohees New Millennium' x ('Rohees Alrami' x 'Stad Elburg')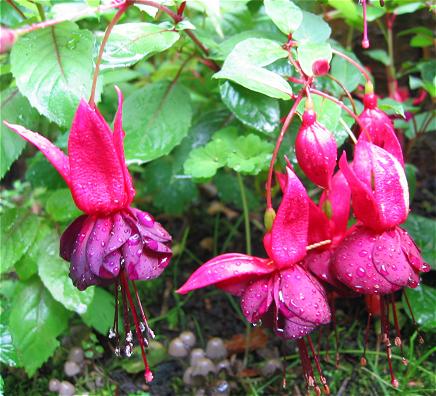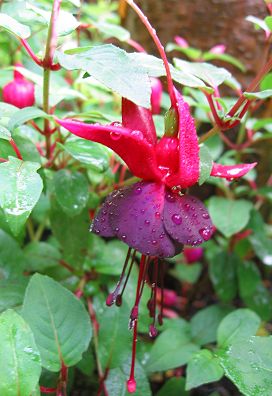 'Maxima' lijkt erg veel op de moederplant 'Rohees New Millennium', en is qua afkomst ook eigenlijk alleen maar "meer van hetzelfde". Bovendien ontwikkeld door één van dezelfde twee veredelaars die deze plant uitbrachten.
Ook hier werd gekozen voor een actuele naam, nl. die van Máxima Z. die in 2002 met kroonprins Willem Alexander in het huwelijk trad; helaas is bij de naamgeving van de plant het accentje op de eerste letter A weggevallen, een beetje onzorgvuldig.

'Maxima' kan redelijk rijk bloeien, maar is een beetje kwetsbaar door erg dunne stengels. Hierdoor is zij zowel bovengronds als ingekuild ook niet zo makkelijk 's winters over te houden.
'Maxima' looks a lot like its mother 'Rohees New Millennium', no wonder because the additional parentage is only "more of the same". Besides it was developed by one of the same two growers who had brought out that plant.
The choice of the name also was based on an actual event, the marriage of Máxima Z. with our crown prince Willem Alexander in 2002.
It's a pity the accent on the first letter A was omitted, probably by negligence.

'Maxima' can flower pretty well, but is a bit vulnerable by its very thin stems. This also causes difficulties in overwintering, in a pot as well as under peat-litter.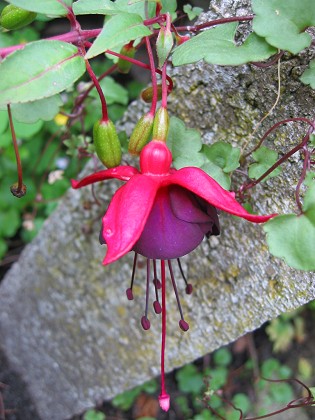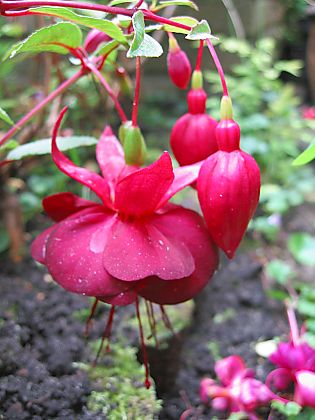 Linksboven een jonge bloem waarvan de kelkpunten nog niet omhoog zijn gaan staan,
en rechts een rijpe bloem met een meer roodachtig purperen kroon.
Left a young flower with its sepals not yet folded upwards, and right a ripe flower with a red-purple corolla.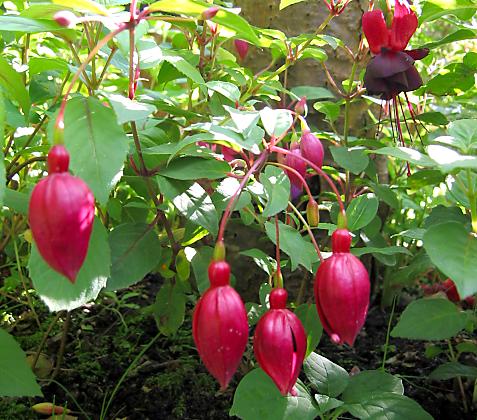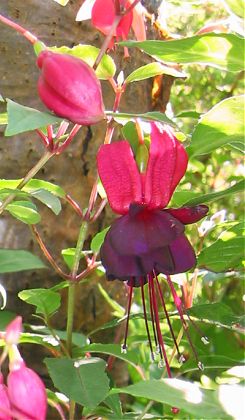 De kleuren zijn dezelfde, maar de knoppen zijn wat langwerpiger dan die van de moederplant, en de bloembuis is wat korter. De bloem is wat eleganter gevormd, met name de kroon die wat minder bol is en wijder uitstaat - zie bijv. de foto hier linksonder.
The colours are the same, but the buds are more oblong that those of the motherplant, and the tube is a bit shorter. The appearance of the flower is more elegant, especially because the corolla is less spherical and more horizontal - look at the picture on the left below.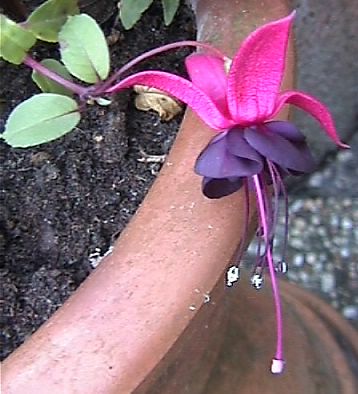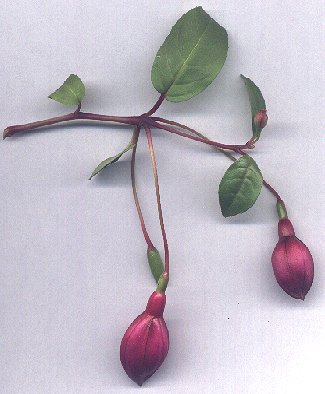 Linksboven een fraaigevormde bloem, rechts een scan (± ware grootte) van een takje met knoppen.
Above-left a well-shaped flower, right a scan at about real size.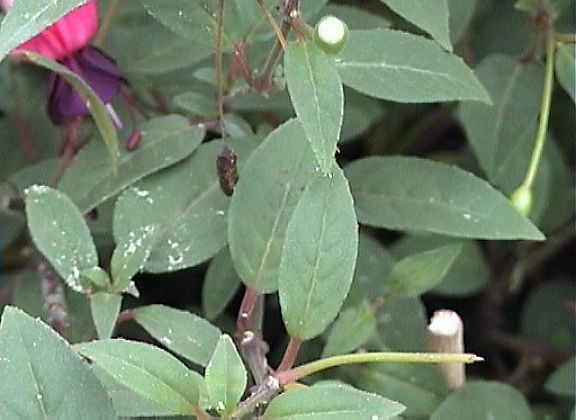 De bladeren verschillen het meest van die van 'Rohees New Millennium': ze zijn smaller, geheel vlak en mat-grijsgroen. De witte vlekjes op de bladeren op deze foto zijn waarschijnlijk stuifmeel dat uit de bloemen was gevallen.
The leaves are most different from those of 'Rohees New Millennium': they are narrower, flat and mat, greyish green. The white spots on these leaves were probably due to pollen from the flowers.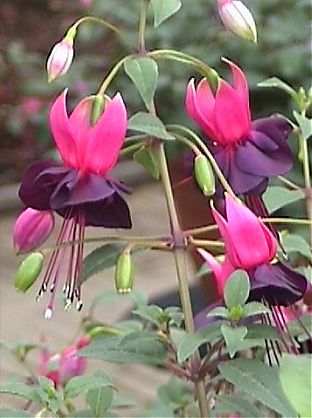 'Maxima' als nieuwigheid, in een hal op de Floriade 2002. De knoppen waren wat bleek door te weinig licht.
'Maxima' as a novelty in a hall on the Floriade 2002. The buds were a bit pale by the deficiency of light.