First Success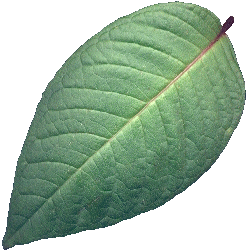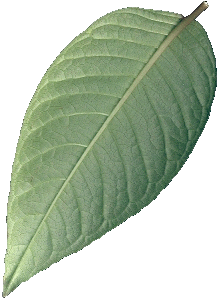 First Success - Weeda 1982 NL O E L.lila / B S lilacpink l.violetpurple

Ouders / Parentage: F. splendens x F. paniculata

Deze plant, een primaire kruising van twee botanische fuchsia's, heeft een gebruiksaanwijzing:
Na september niet meer afsnoeien, en 's winters (liefst in een kas) gewoon door laten groeien. De knopaanleg wordt nl. rond de kortste dag gevormd, en in gunstige omstandigheden zal de plant al in de winter beginnen te bloeien. In mijn minder goede situatie begint hij omstreeks april buiten te bloeien - na eerst al heel wat knopjes te hebben laten vallen. Dit voorjaar (2001) is echter zo slecht en koud, dat van de knoppen niets terecht lijkt te komen. De plant bloeit alleen in het voorjaar, tot eind mei, en staat er de rest van het seizoen wat saai en groen bij.
Omdat hij groen moet overwinteren, zal men hem zeker in een pot zetten, en niet in de volle grond.
De plant blijkt aantrekkelijk voor taxuskevers, is mij bij twee exemplaren duidelijk gebleken - daar zal dus goed op gelet moeten worden. Juist potplanten vallen vaak aan deze plaag ten prooi.
November 2001.
Ik moet zeggen, dat het met de bloemen nog behoorlijk is meegevallen - in mei en juni heeft de plant nog aardig gebloeid. Ik meende, dat de naam "First Success" was gegeven omdat de plant zo ongeveer als eerste in het jaar bloeit, maar ik kreeg onlangs te horen dat deze fuchsia zo heet omdat 't het eerste succes met veredelen was van Bas Weeda uit Zuidland (ZH), die deze cultivar heeft ontwikkeld.

This fuchsia is a primary crossing of two natural species (see above). To get it into flower, here some instructions: Don't prune it after end September. The bud-initiation is around the shortest day, so pruning too late means no flowers at all during the following season. Further, it has to be kept growing during the wintermonths, preferably in a greenhouse, then the flowers may open during winter already (that's why it's called 'First Success' - the earliest fuchsia in flower). In my circumstances it's not in flower before April, outside, after having dropped a lot of buds; this spring (2001) it's so hopelessly cold that there doesn't seem to come any flowering at all. The plant stops flowering after May and for the rest of the season it looks rather green and dull, it certainly isn't everybody's favourite.
Because of its overwintering habits, this plant will be kept in a pot sooner than be planted in the garden; but it's rather susceptible to vineweevil, as I've noticed twice, so you'll have to keep an eye on it.
November 2001.
I must say, it wasn't such a misery as I expected, for in May and June the plant flowered quite well. I also heard the other day, that the name "First Success" had nothing to do with early flowering, but referred to the fact that this plant was the Dutch grower Bas Weeda's first success in hybridizing.




De foto linksonder is op ongeveer ware grootte - het zijn maar kleine bloempjes, in een bloeiwijze bij elkaar aan de einden van de takken.
The photo below left is at about real size - the flowers are only small, growing together in racemes at the ends of the branches.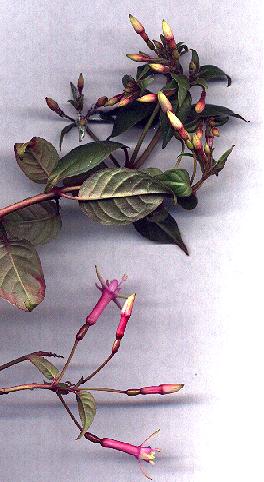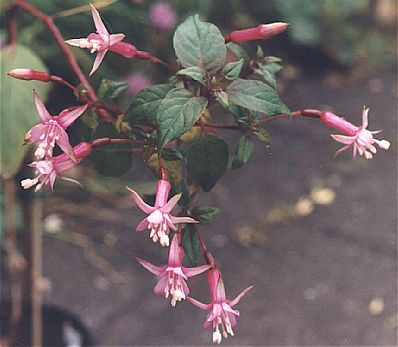 De bloempjes hebben veel weg van die van Fuchsia paniculata, maar die staan rechtop in dichtere trossen en zijn kleiner, terwijl 'First Success' afstaande bloempjes heeft, ongeveer 2 x zo groot als van F. paniculata.

The flowers look a lot like those of Fuchsia paniculata, but those stand up and are smaller, with many more in bigger racemes; those of 'First Success' are about twice as big and have a horizontal position on the plant.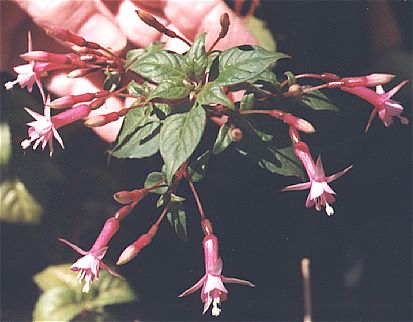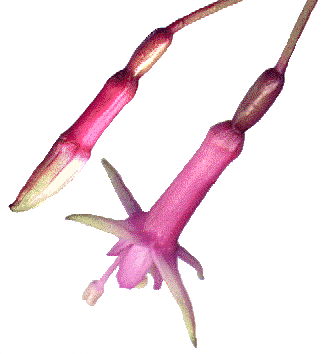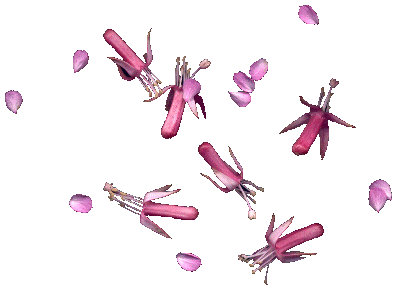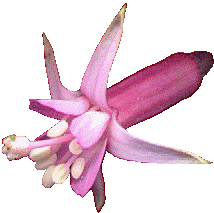 Als de bloempjes uitgebloeid raken, verliezen ze eerst hun kroonblaadjes voordat ze afvallen.
Once the flowers start to fade, they lose their petals before dropping off.




Feb/Mrt 2003: First Success als groot succes op mijn slaapkamer
Feb/Mar 2003: First Success as a great success in my bedroom