Acclamation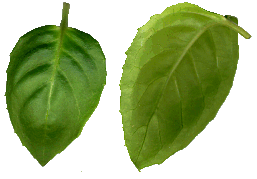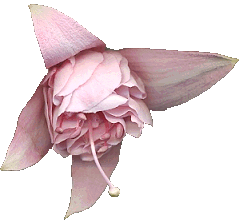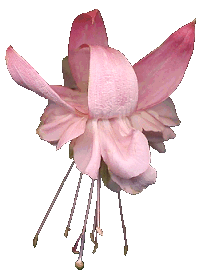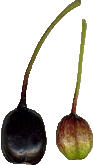 Acclamation - Scrase 1994 AU H D L.roze roze / T D l.pink pink - verloping/sport 'More Applause' ⇒
More Applause - Plows 1986 US HH D witroze lilaroze-basis wit / B/T D whitepink lilacpink-bas. white - verloping/sport 'Applause' ⇒
Applause - Stubbs A. 1978 US HH D roze D.oranjerood / B/T D pink d.orangered

Ouders / Parentage : ('Trade Winds' x 'Dee Dee') x 'Fan Tan'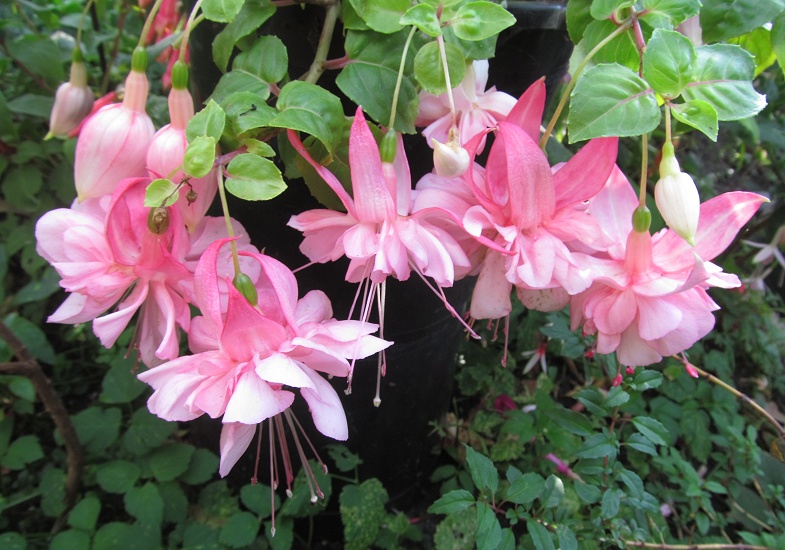 Deze grootbloemige dubbele fuchsia is na twee mutaties (verlopingen of sports) spontaan geëvolueerd van een pittige lichtroze-met-oranje kleurstelling ('Applause') naar een teer baby-roze eenkleurige fuchsia; daarbij heeft hij ook nog een reis gemaakt vanuit de Verenigde Staten naar Australië.
Hoewel dit laatste land/werelddeel berucht is om zijn bloedhete zomers die in onze winters plaatsvinden, is 'Acclamation' niet buitengewoon blij met hitte, zoals menigeen van onze fuchsiavereniging NKvF regio Friesland heeft mogen ervaren met deze plant als Floraliastek in 2018, een historisch hete zomer.
This big-flowered double fuchsia has evoluated spontaneously, in two steps of mutation, from a contrasting lightpink-orangered combination to a self-coloured baby-pink; meanwhile it emigrated from the USA to Australia.
Although this country/continent down-south is notorious for its burning hot summers taking place during our winters, 'Acclamation' isn't exactly happy with heat, as many members of our fuchsia society-branch experienced last summer with this plant as Floralia-cutting for 2018, an extremely hot summer according to our standards.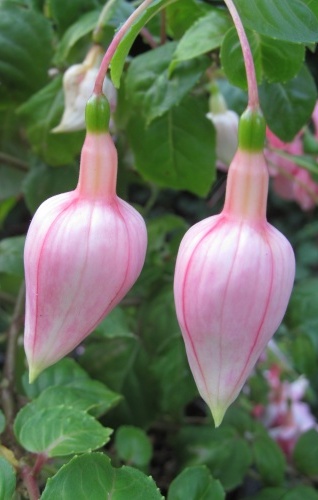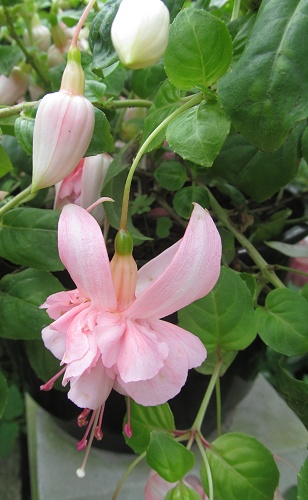 Eind juni gingen aan mijn plant, die voorspoedig groeide, de eerste reusachtige knoppen open.
By the end of June the first giant buds opened on my plant, which grew pretty well.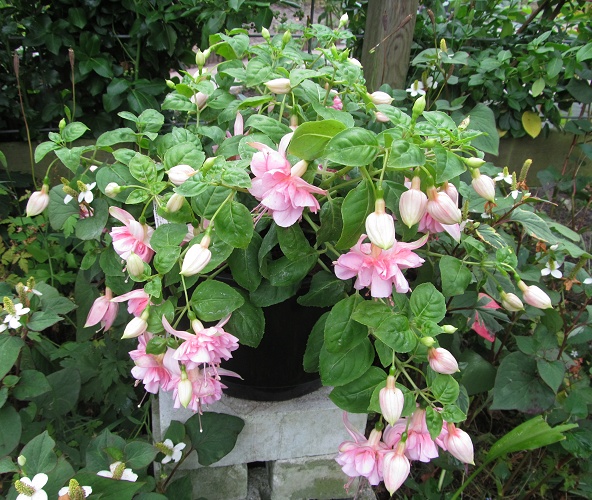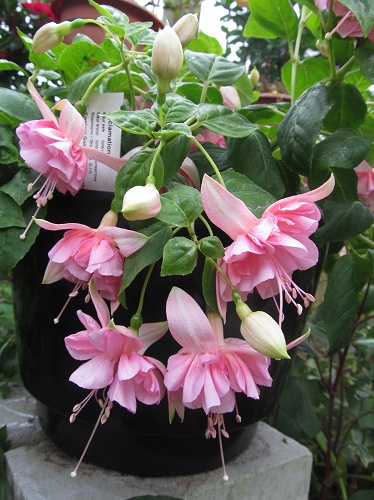 'Acclamation' is een fuchsia die in "golven" bloeit; veel soorten bloeien gespreid over de hele (na)zomer, maar er zijn er ook die ineens een uitbarsting van knoppen en daarna bloemen hebben, om na de uitbloei weer een poosje alleen maar groen te zijn; zoeen is deze plant, en bijvoorbeeld ook La Campanella. Het voordeel daarvan is, dat zo'n plant tijdens de bloei prachtig is, maar de vrij lange bloemloze periode is echt wel een nadeel te noemen. Hierboven de eerste bloeigolf van mijn plant, de foto's zijn van 9 juli 2018.
De maand juli was heel warm, met als hoogste temperaturen 34 en 33°C op resp. 26 en 27 juli. Begin augustus stond mijn Floraliaplant er groentjes bij, zoveel mogelijk beschut tegen de felle zon, maar in het algemeen bloeide mijn tuin heel aardig. Met veel watergeven deden de meeste fuchsia's het zelfs beter dan andere zomers, de zon gaf ze volop energie en mijzelf ook.

Tegen het eind van augustus zaten er weer aardig wat knoppen in mijn 'Acclamation', de tweede bloeigolf zou ongeveer 2 weken later beginnen. Maar ja - op 1 september was de Floralia-wedstrijd, en ik had er dan ook geen hoge verwachting van wat mijn plant betrof - slechts 1 bloemetje aarzelend open, dat werd dit jaar weer geen prijs.
Maar wie schetste mijn verbazing, verbijstering eigenlijk, dat ik bij aankomst niet de in ons regioblad voorspelde weelde van roze bloemen over de planken zag hangen waarop de planten moesten worden neergezet! Veel waren er opvallend klein en bloemen zaten er nauwelijks in. Er werden bovendien maar 15 planten ingebracht, meestal zijn er zo'n 25. Ik vroeg iemand die altijd goede resultaten heeft en soms ook wel een prijs wint, welke plant van haar was. "Ik heb 'm niet meegenomen, hij zag er beschamend uit," zei ze, "maar het was ook zó'n moeilijke plant deze keer, en dan die HITTE!"
'Acclamation' is a plant with "waves" of bloom; many fuchsias flower during the whole (after)summer, but there are those, like this plant and e.g. La Campanella, that have an outburst of buds and flowers at once, to be just green again afterwards for some time. The advantage is the splendour of so many flowers together, but the relatively long period without any flowers can be regarded as a real disadvantage.
Above my plant in its first "wave" of flowering, the photos were taken on 9 July 2018.
The month of July was very hot, with the highest temperatures of 34 and 33°C on 26th and 27th of July. At the beginning of August my plant was only green, shaded from too hot sunshine, but in general my garden was beautiful in 2018. With a lot of watering most fuchsias even grew better than in ordinary summers, the sun gave to them a lot of energy and also to myself.

By the end of August my 'Acclamation' bore a lot of buds again, the second flowering-wave would start about 2 weeks later. But on 1 September already was the Floralia-contest, so I didn't expect much concerning my plant - only one flower opened up a little, this year wouldn't bring me a prize.
But arriving at the location I wondered where all these cascades of pink flowers were, predicted in the magazine of our society branch before the cuttings were handed out in March. I was astonished not to see them - in their place there stood a group of mostly just green, relatively small plants on the tables outside; only 15, while on the average there are about 25. I put mine amongst them, and got some compliments from other members. One woman always having a good plant, sometimes winning a prize too, I asked which one was hers. "I didn't bother to bring it," she said, "I would be ashamed of the poor result this time. But this one was so hard to grow, and then this HEAT!"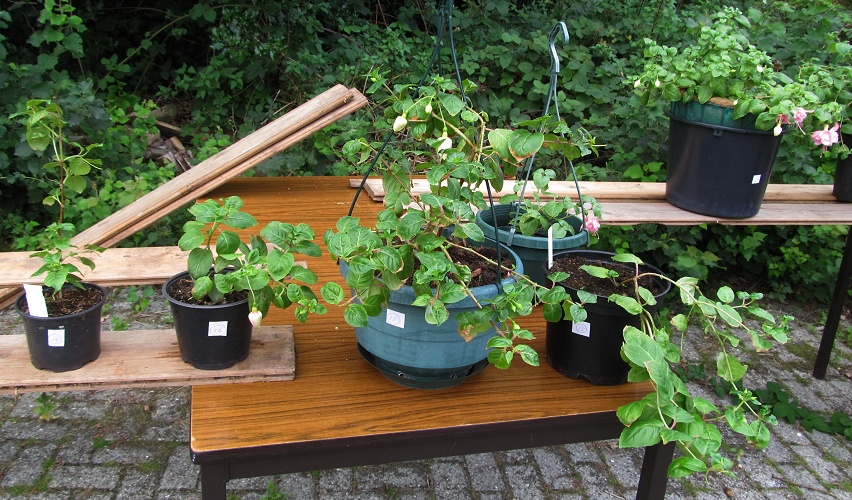 Hierboven en hieronder: Het vrijwel bloemloze resultaat na een lange hete zomer voor de Floraliawedstrijd van 'Acclamation'
Above and below: The hardly flowering results of a long hot summer for the Floralia-contest of 'Acclamation'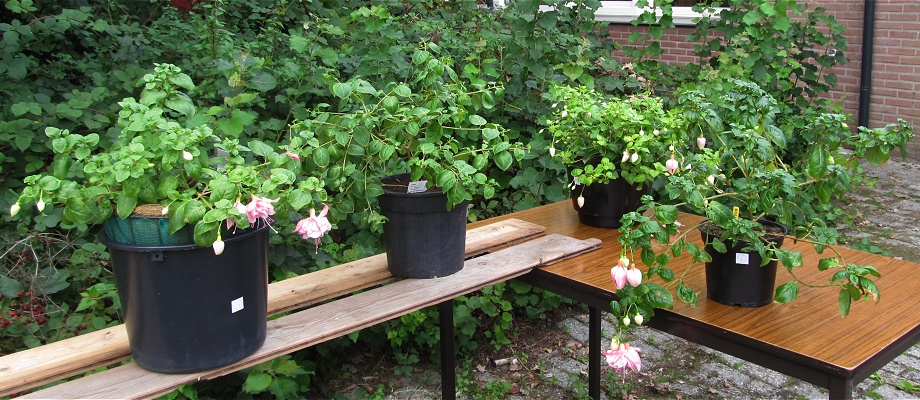 Dit waren dan nog de grootste exemplaren. De plant links kreeg de derde prijs, die achteraan de tweede.
These were the biggest ones. The one on the left got the third, the one at the back the second prize.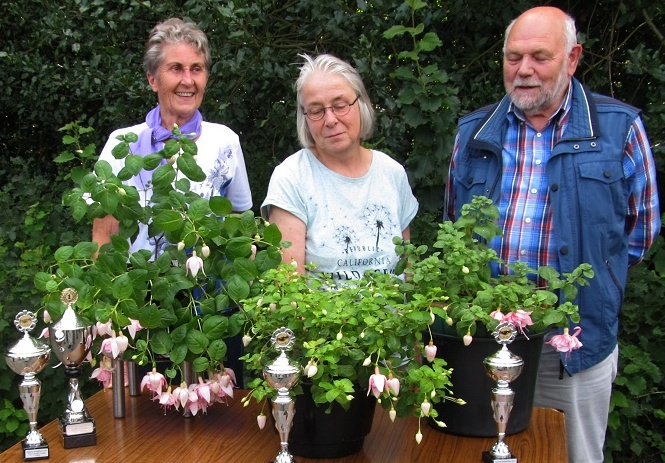 Prijswinnaars / prize winners fuchsia 'Acclamation': W. Couperus (1) - I. de Boer (2) - E. Zuidema (3).


Er was maar één plant die een redelijk aantal bloemen had, die kreeg de eerste prijs. En wat ik vantevoren nooit zou hebben gedacht: mijn plant kreeg zowaar de tweede prijs.
Natuurlijk was ik trots, hoewel ik ook wel een beetje dacht: "Nou ja, in het land der blinden is een-oog koning..."
Maar het was hoe dan ook een aangename verrassing, dat ik hiermee voor de tweede keer in het rijtje van de winnaars stond, en een bekertje in ontvangst mocht nemen, wat een plaats heeft gekregen naast dat van de derde prijs die ik in 2016 had gewonnen, met 'Freundeskreis Leonberg'.
There was only one plant bearing a reasonable amount of flowers, winning the first prize. And what I'd never expected, did happen: my plant got the second prize.
Of course I felt some pride, but I also thought: "Well, in the land of the blind one-eye is king..."

However, it was a pleasant surprise anyway, that I was among the winners for the second time, and got a prize-cup which I could put beside the one of the third prize in 2016, with 'Freundeskreis Leonberg'.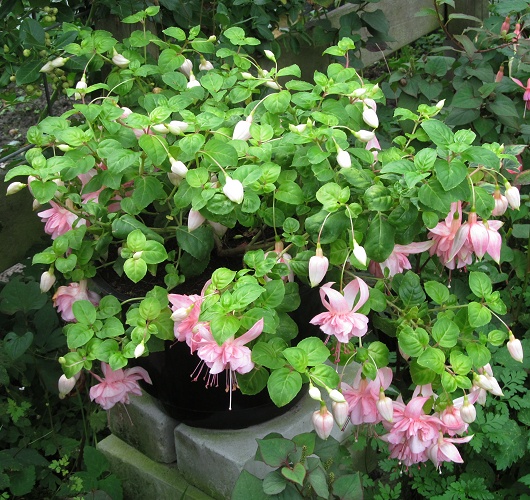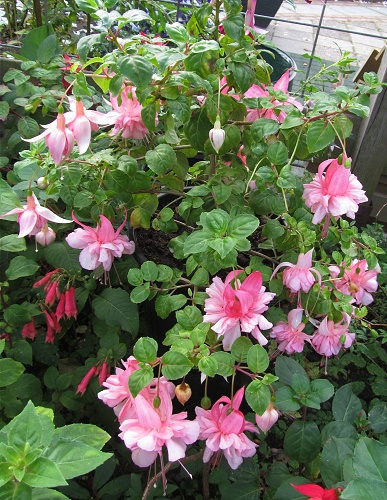 En daarna pakte mijn plant weer echt uit - links op 14 september, rechts een stek ervan op 16 oktober 2018.
Two weeks later my plant was really beautiful - left on 14 September, right a cutting from it on 16 October 2018.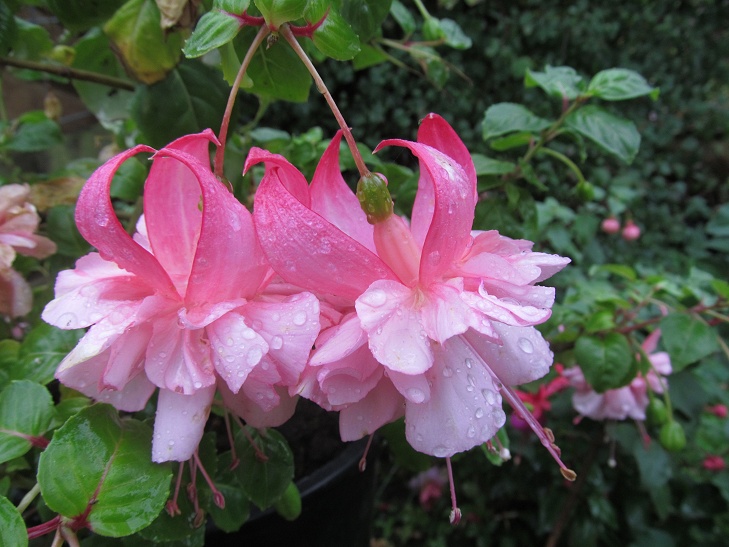 De laatste bloemen aan de stek (niet meegebracht naar de Floraliawedstrijd) op 30 oktober 2018.
Deze foto ingestuurd voor de fotowedstrijd bij de jaarlijkse ledendag 2019 van de NKvF leverde me ook een 2de prijs op!
The last few flowers on the cutting (not brought to the Floralia contest) on 30 October 2018.
With this photo sent in at the photocontest at the 2019 annual members' day of the Dutch Fuchsia Society I also won the 2nd prize!