Fuchsia fulgens variegata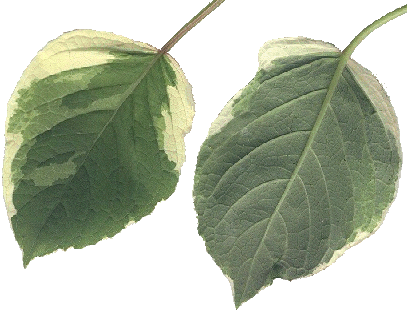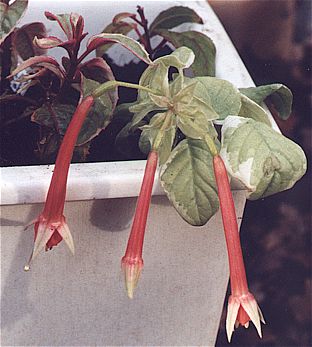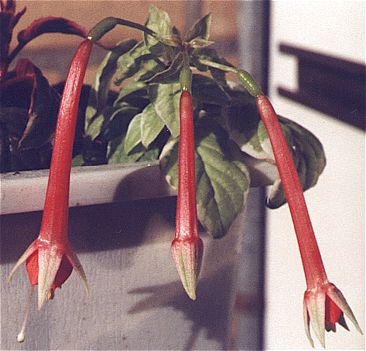 Botanische fuchsia / Species
Deze twee foto's zijn de enige die ik heb van deze mooie lange bloemen (links ± ware grootte);
de stek die ik vorig jaar (1999) kreeg, bloeide en liet daarna alle blad vallen en ging dood.
Misschien hadden die bloemen teveel van de
kleine stek gevergd - jammer, temeer daar het
een botanische fuchsia was en bovendien met
bont blad, beide reden voor mij om hem te willen hebben.
These 2 photos are the only ones I have of these beautiful long flowers (left about real size); the cutting I got last year (1999), got 3 flowers and after that dropped all its leaves and died. Perhaps those big flowers had been too much for it - a pity, especially because it was a species, with variegated foliage too, both reasons for me to want it...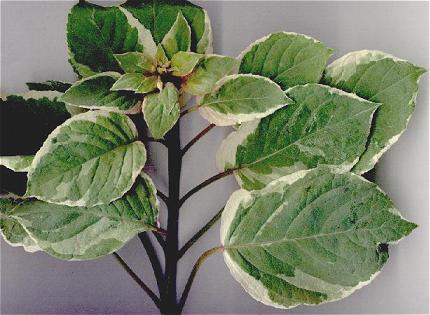 Een topje van één van de vrij lange takken, met een paar bloemknopjes bovenin

A top of one of the rather long branches, with some flowerbuds at the end
Driekleurig blad, wat onregelmatig van vorm

Tricolor-leaves, somewhat irregularly shaped