WALZ Triangel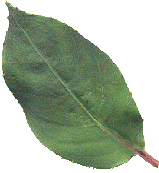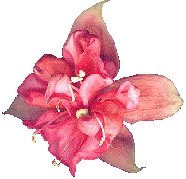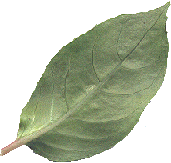 WALZ Triangel Waldenmaier 1987 NL HH E wit/L.roze-top groen rood/oranjerood
WALZ Triangel Waldenmaier 1987 NL B/T S white/pink pink/orangered

Ouders / Parentage: (Bicentennial x (Fuchsia magdalenae x seedling from Forgotten Dreams)) x Seventh Heaven



Onder en rechts twee scans

Below and right two live scans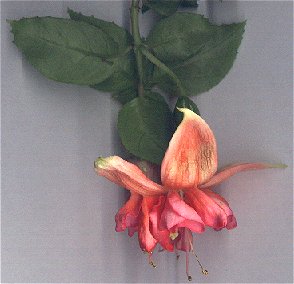 Een plant met een prachtige oranje bloemkleur.
WALZ Triangel doet denken aan WALZ Mandoline, maar heeft minder mooi blad en is wat slap en breekbaar. De vorm van de bloemen is evenals bij WALZ Mandoline nogal variabel - soms enkel, soms dubbel, vaak wat een rommelige bloemkroon. Mijn voorkeur gaat uit naar WALZ Mandoline, hoewel deze ook niet bepaald rijk heeft gebloeid dit jaar, misschien was er te weinig zon.
WALZ Triangel lijkt daar iets minder moeite mee te hebben, bloeide wel aardig maar had ook last van knopval.

A plant with lovely orange-coloured flowers.
WALZ Triangel reminds me of WALZ Mandoline, but its foliage isn't as beautiful and the plant is rather limp and brittle. The shape of the flowers is, just like those of WALZ Mandoline, rather variable - sometimes single, sometimes double, the corolla often is somewhat irregular.
I prefer WALZ Mandoline, though that one didn't give many flowers this summer - probably there was not enough sunshine. WALZ Triangel seems to have less problems with this, there were flowers now and then, but it also often dropped its buds.





Hierboven en onder een paar foto's van de beste knoppen en bloemen. De knopvorm van WALZ Triangel is wel erg mooi - een tolvormige knop, heel rond met een puntje onderaan.
Above and below a few photos of its best buds and flowers.
The shape of WALZ Triangel's buds is very pretty - ball-round pointed buds, top-shaped really.