Chinees lantarentje - Rosary Vine - Ceropegia woodii (Asclepiadaceae)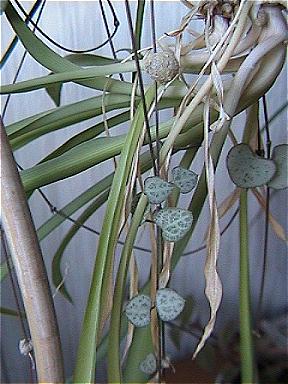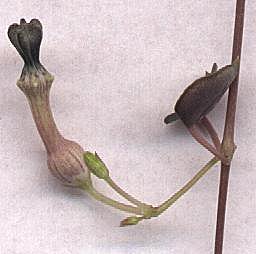 Deze ragfijne bloempjes hebben in hun bolvormig ondereind een ingenieus vangsysteem voor vliegjes die voor bestuiving moeten zorgen voordat ze weer vrij komen.
In de huiskamer zal men niet gauw worden verrast door vruchtjes aan de plant.

These refined little flowers have in their spherical base an ingenious system to catch tiny flies, which are released some time after pollinating the flowers. At home you don't have much chance to get a fruit on this plant.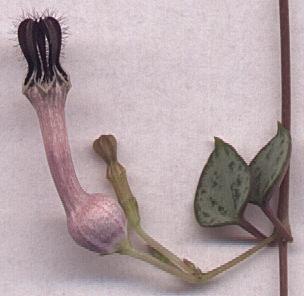 Het Chinees lantarentje, dat helemaal niet uit China maar uit Natal, Z. Afrika afkomstig is, is een ijl plantje met kleine dikke blaadjes aan lange dunne stengels. Het heeft heel weinig water nodig. Het vormt knolletjes aan de stengels, die wortel schieten als ze grond raken; soms raken ze ook weleens iets anders waarin ze menen te kunnen groeien, zoals op de foto's hieronder te zien is - één knolletje heeft zich muurvast verankerd in een rotan plantenstandaard.
- Dit bleek helaas niet helemaal waar: ik ontdekte later dat het knolletje alleen maar beklemd zat in de plantenstandaard.

This trailing plant, originating from Natal, S. Africa, hardly needs any water; it has very slender stems with small thick speckled leaves and tubers, which make roots when finding soil to grow in; sometimes they attach themselves to something else too, as is to be seen in the pictures below - a rather big tuber tightly rooted in a cane plantstand.
- Alas, this proved not true - it was just wedged between parts of the plantstand, I found out later.





Dit knolletje lijkt wat op een schildpadje
This tuber looks a bit like a tiny turtle