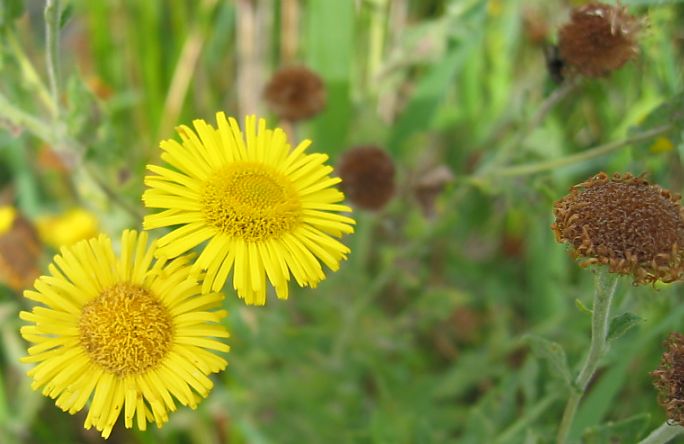 Heelblaadjes - Fleabane - Pulicaria dysenterica (syn. Inula dysenterica) (Compositae)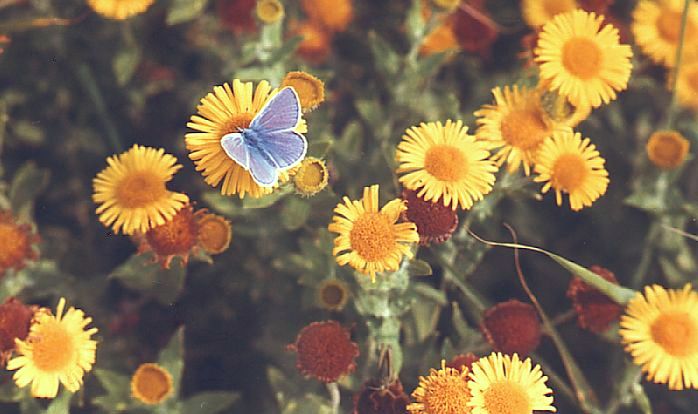 Heelblaadjes, een zeldzame plant in Nederland. Op Texel (foto hierboven, 1983) komt hij nog voor, maar ook bij ons in Friesland, in de gemeente Leeuwarden.
In het recreatiegebied De Groene Ster is een klein gebiedje genaamd Skieppepoel (=schapenpoel), een wandelpad met aan beide kanten water, waar deze plant voorkomt, in gezelschap van andere bijzondere soorten. Of ze hier spontaan zijn gekomen, of ooit een keer ingezaaid, kan men zich afvragen, maar mooi is het er in ieder geval wel.
Fleabane, a rare plant in the Netherlands. It still grows on the island of Texel (photo above - 1983), but with us in Friesland too, in the community of Leeuwarden.
In the recreative area De Groene Ster (=The Green Star) there is a small spot called Skieppepoel (Frisian for 'sheep's pool'), a path with water on both sides, where this plant occurs, together with other unusual species. I don't know for sure if they came there spontaneously or have been sown there years ago, it's beautiful there anyway.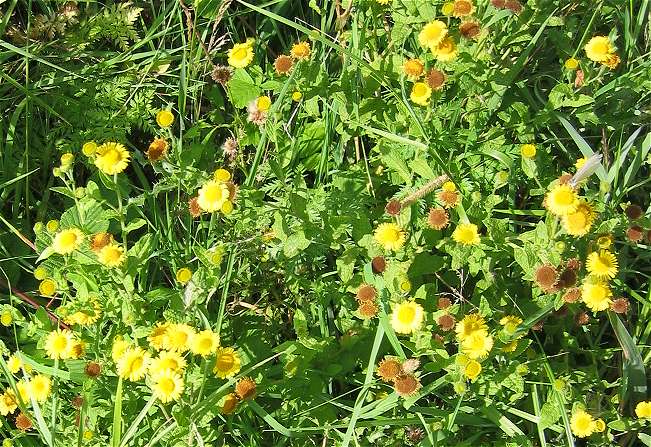 Tot onze spijt is het mooie plekje waar iedereen vrij kon wandelen deze winter (2006) door de gemeente verkocht (eigenlijk in erfpacht afgestaan) aan Aqua Zoo, een kleine dierentuin met vooral waterdieren zoals otters en bevers. Het kost een flinke duit om daarin te mogen, en we hebben zelfs geen idee wat er met het mooie natuurpad en de bijzondere biotoop gaat gebeuren.
In de dierentuin zelf heeft men meer kennis van het verzorgen van dieren dan van de planten op het eigen terrein, was mijn indruk. Het stond er vorige zomer bomvol met Jakobskruiskruid (Senecio jacobaea), een giftige plant die hier eigenlijk niet mag worden getolereerd, omdat de zaden zich gemakkelijk verspreiden en in bermen terechtkomen waarvan het gras als veevoer dient na het maaien. Het gif in dit onkruid kan blijvende schade geven aan de lever.
Het zou zeker geen goede ontwikkeling zijn als de plantengroei in het mooie natuurgebied straks ook wordt gedomineerd door Jakobskruiskruid, navrant genoeg evenals Heelblaadjes een gele composiet, maar doorgaans veel hoger.
To our regret the spot (where everybody could walk free) has been sold (or let on a long lease) by the municipality to Aqua Zoo this winter (2006), a small zoo with mainly water-animals like otters and beavers. You have to pay a lot for the entrance, and we don't even have any idea what will happen to the beautiful path and its rare habitat.
In the zoo itself there's more knowledge about how to look after their animals than after their plant population, was my idea last summer. The place was crowded with Common ragwort (Senecio jacobaea), a poisonous plant that's forbidden here, because its seed spreads easily and the weed grows up with grass which is meant to feed cattle, so infesting the hay that's made of the grass. The poison can cause serious liver damage.
It certainly wouldn't be a good development if the plant population in the beautiful spot would also be dominated by Common Ragwort in the course of time - ironically just like Fleabane a yellow composite, but much taller as a rule.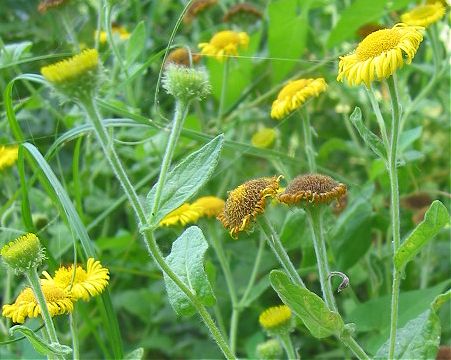 Foto hierboven is een detail van die hieronder
Above picture is a detail from the one below



Heelblaadjes werden vroeger als geneeskruid gebruikt, om wonden te helen en buikloop te stoppen (vandaar dysenterica).
Bovendien zouden ze vlooien op een afstand houden. Pulicaria betekent "vlooienkruid".



Fleabane was used as a medicinal herb in the past, to heal wounds and to stop diarrhoea (hence dysenterica).
Its English name tells us about another quality: the plant would also be a means to keep fleas at a distance.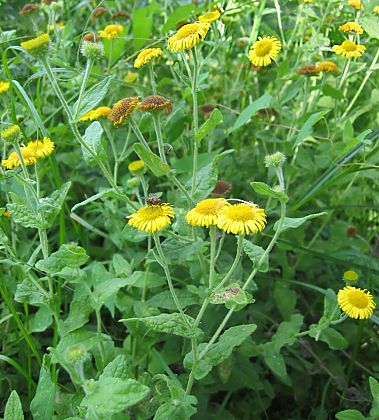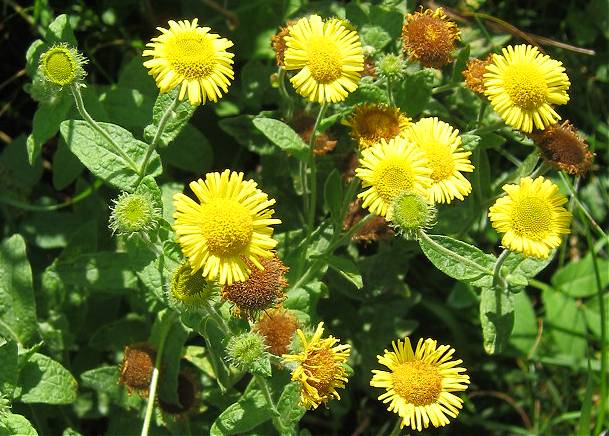 Heelblaadjes lijken iets op de tuinplant Helenium met hun teruggeslagen straalbloemen
Fleabane flowers remind me a bit of the gardenplant Helenium with their backward ray-florets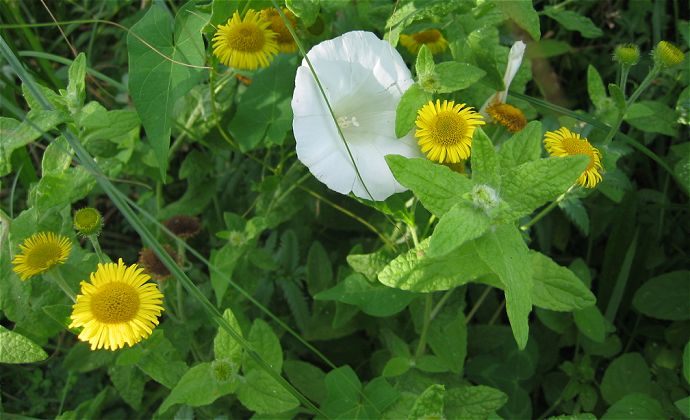 Heelblaadjes in gezelschap van haagwinde / Fleabane and Hedgebells together

Nog een paar foto's en enige scans / A few more photos and some live scans