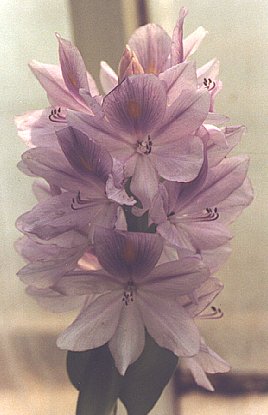 Deze fraaie, orchidee-achtige waterplant is gelukkig in ons land niet inheems, en ook niet in staat om de winter te overleven in de buitenwateren.
De oorspronkelijk Zuid-Amerikaanse schoonheid heeft in de tropen helaas op vele plaatsen onheil aangericht. De dichtregel van John Keats, die ik op mijn homepage heb gezet: "A thing of beauty is a joy forever" gaat helaas in dit geval niet op. Integendeel, onwetende plantenliefhebbers hebben 'm ruim een eeuw geleden meegenomen om er in andere warme streken tuinvijvers en rivieren mee te verfraaien, waarmee letterlijk dood en verderf was gezaaid. Rivieren die totaal verstikt raakten zodat de vissen stierven, en bovendien een broedplaats voor malariamuggen werden.

This pretty, orchid-like waterplant fortunately doesn't grow in the Netherlands, and isn't able to survive winter in our waters.
The originally South-American beauty has done a lot of harm in tropical areas, though. The motto of my homepage, "A thing of beauty is a joy forever" by John Keats, isn't really true here - "a pest forever" would be more like it in this case. Plant-lovers took it more than a century ago to several tropical areas to give some colour to their own gardenponds and rivers, whereby death and disaster were spread. Rivers were totally choked with these plants, so that the fish died, and malaria found vaste new breedingplaces.