Etage-christusdoorn - Flowertower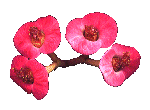 Meestal groeien de bloempjes aan de christusdoorn (Euphorbia milii) met 2, 4 of soms 8 aan een steeltje zoals op het plaatje rechts, maar sommige planten maken "doorschieters" waarbij uit een bloempje steeds weer één of twee nieuwe groeien - men krijgt als het ware "etages". Een vergevorderd voorbeeld ziet men links. Meestal blijft het beperkt tot 1 etage, zoals op de plaatjes hieronder te zien is.

As a rule the flowers of Euphorbia milii grow 2, 4 or sometimes 8 on a stem
(see top-right picture), but some plants have the funny deviation of flowers growing on top of eachother. Mostly this happens only once per flower, like on the photos below, but you also find extremes like in the picture on the left - a real "flowertower".