Olifantsrups (Deilephila elpenor)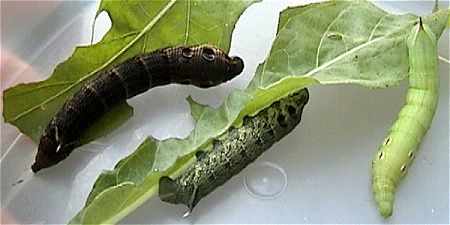 Boven: 3 kleurstadia, onder: rups verkleurend van groen naar zwartbruin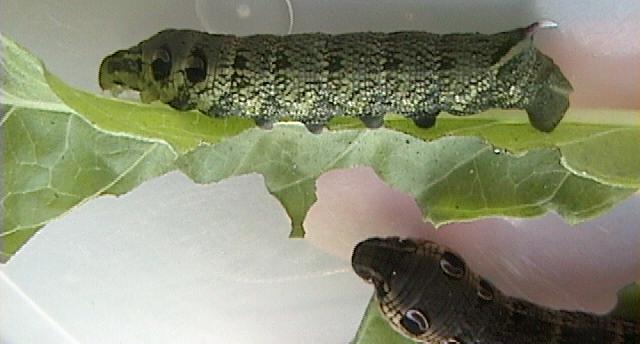 Een monster dat fuchsia's vreet...
maar wel het larvestadium van een mooie vlinder, die men niet zomaar dood moet maken.
Om deze reden vang ik de rupsen en kweek ze op bladeren van vnl. wilgeroosjes en teunisbloemen, en af en toe wat fuchsiablad dat wel gemist kan worden, van snoeisel e.d.
De schade van deze rups bestaat uit aangevreten bladeren, soms hele scheuten die zijn kaalgevreten. Als de rupsen nog klein zijn eten ze minder en valt de schade nog niet zo duidelijk op, zeker niet als de planten dicht op elkaar staan, maar het vraatpatroon wordt grover naarmate de rups groeit. Aan deze schade, maar ook aan de uitwerpselen kan men zien dat men met olifantsrupsen te maken heeft - ze zijn donkergroen tot zwartbruin en mooi gevormd, zuiver ronde cylindertjes met zes karteltjes (foto rechts).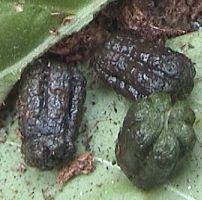 Linksonder: aangevreten fuchsia. - Rechtsonder: Op heterdaad betrapt, op fuchsia 'John Maynard Scales'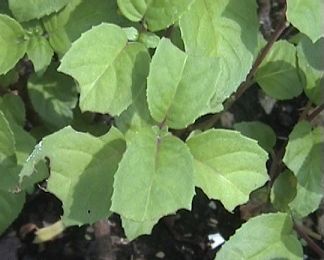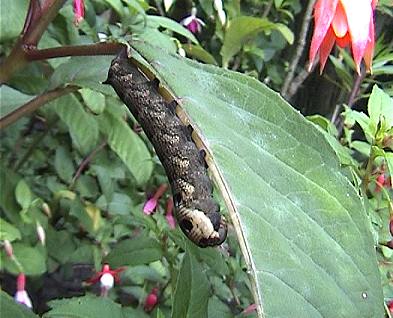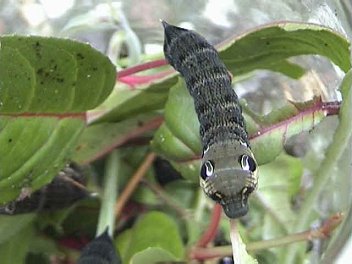 De rups is eerst groen en wordt later zwartbruin, de ene eerder dan de andere. De voorste segmenten lijken op een slurfje t.o.v. de segmenten daarachter, omdat ze smaller zijn. De kop is naar verhouding ook vrij klein.
Als de rups zich bedreigd voelt, trekt hij de voorste segmenten samen en ziet men die daarachter met een paar oogvlekken voor de kop aan - zodat vijanden worden afgeschrikt.
Let ook op de doorn op het achterlijf van de rups. Deze is typerend voor alle pijlstaartrupsen.
In volgroeide toestand meet de rups ongeveer 8 cm.
In het najaar van 2000 heb ik enige gevangen rupsen als poppen in een bak laten overwinteren, met als resultaat prachtige vlinders (mei 2001), die op een nieuwe bladzijde te zien zijn.










Elephant hawk (Deilephila elpenor) - caterpillar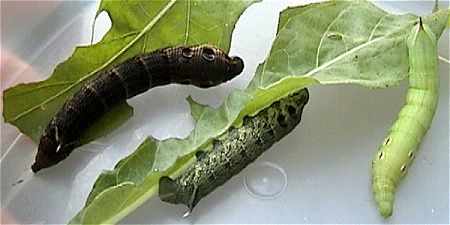 Top: caterpillars in 3 colourstages; below: caterpillar changing from green to darkbrown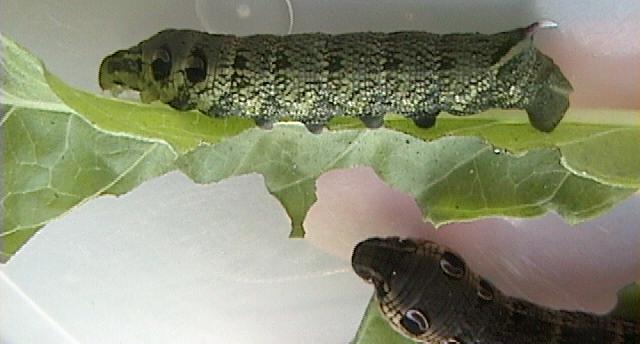 A fuchsia-eating monster...
but the larval stage of a beautiful butterfly (a moth flying by night), which shouldn't be killed just like that.
Because of this I catch the caterpillars and grow them on leaves of mostly willowherb and evening primrose, and sometimes some fuchsia foliage, e.g. from prunings.
The damage done by this caterpillar are half-eaten leaves and sometimes totally stripped shoots. When the caterpillars still are small they don't eat so much yet and you probably won't notice anything in a dense plant-population, but food intake increases with the size of the animals. Their damage, but also their droppings under the plants indicate the presence of these particular caterpillars - they are darkgreen to black-brown well-shaped, pure-round 6-ribbed cylinders (photo right).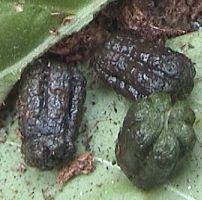 Below left: fuchsia-leaves, partly eaten away. - Right: Caught in the act, on fuchsia 'John Maynard Scales'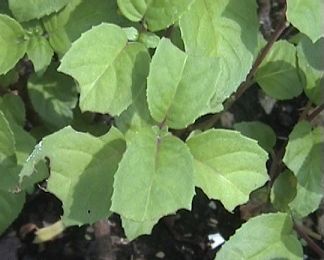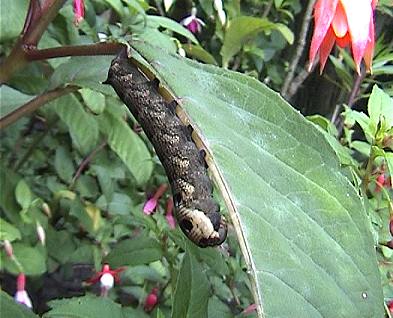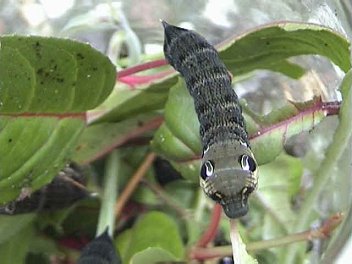 Young caterpillars are green, later becoming darkbrown with black spots, one sooner than the other. The front segments look like a sort of elephant's trunk, the following segments are bigger. The head is rather small compared to the body.
Once the caterpillar feels threatened, it withdraws the foremost segments so that the ones right behind them seem to be the head, with some eye-like spots on them to frighten predators away.
Notice the thorn on the caterpillar's behind; it's typical for all hawk-caterpillars.
A fully-grown caterpillar is about 3 inches long, sometimes a bit more.
In the autumn of 2000 I overwintered some caterpillars as pupae in a plexiglass box, with splendid moths as a result (May 2001), shown on the next page.