Vuurwerk - de Graaff 1987 NL AFS 2372 H E roodoranje-top groen donkeroranje-adering groen
Vuurwerk - de Graaff 1987 NL AFS 2372 T S redorange/green d.orange/green veins

Ouders / Parentage: 'Space Shuttle' x Speciosa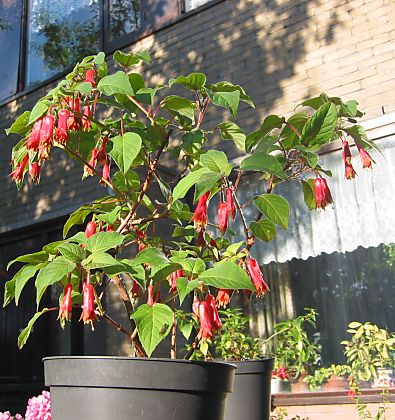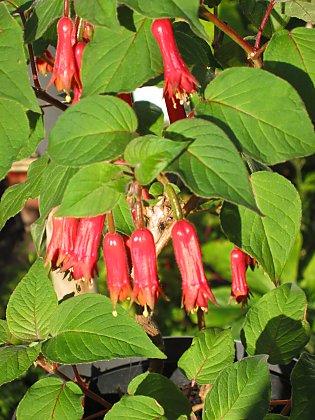 'Vuurwerk' is een aparte fuchsia, die bij mij zijn sporen (en dus een internetpagina) wel verdiend heeft. In 1999 viel de plant mij op bij een andere liefhebber uit de regio, niet door de veelheid aan bloemen maar eerder door de weelderige groei, grote zachte bladeren en hier en daar een wonderlijk gevormd fel-oranje bloempje.
Stekken bleek niet zo erg makkelijk, maar het lukte me er twee plantjes van aan de gang te krijgen en die heb ik nog steeds, ze kunnen 's winters moeiteloos worden ingekuild.
De ervaring heeft geleerd dat het succes in een pot groter is dan in de volle grond, daar komen er veel minder bloemen aan.
In de afgelopen snert-zomer van 2005, waarin de meeste fuchsia's het in mijn toch al te donkere tuin jammerlijk af lieten weten, bloeiden deze planten van mei t/m november onafgebroken door - geweldig, nog nooit zo'n resultaat gehad.
Een fel-oranje lichtpuntje in de grauwheid van een niet-zomer, waarin het uitzicht op m'n piepkleine tuin meestal het enige "buiten" was dat er voor mij overbleef.
'Vuurwerk' is an extraordinary fuchsia, really deserving a page on my website at last, I think. In 1999 I first saw the plant with another fuchsia-hobbyist in an adjacent village. It didn't strike me by an abundance of flowers, but by its vigorous growth and soft, large foliage and an occasional unusually shaped bright-orange little flower.
Its cuttings didn't root very easily, but I succeeded in growing two little plants, which still exist, and storing them in peat-litter during winter gives no problems.
I found out they prefer growing in a pot to just growing in the garden, because it resulted in a lot more flowers.
In the miserable cold summer of 2005, during which most of my fuchsias didn't do very well in my already too shady garden, these plants flowered without any pause from May till end November - unbelievable, their best year up till now.
A bright-orange spot in the dull greyness of a no-summer, when most of the time my tiny little garden was my only view on "outside".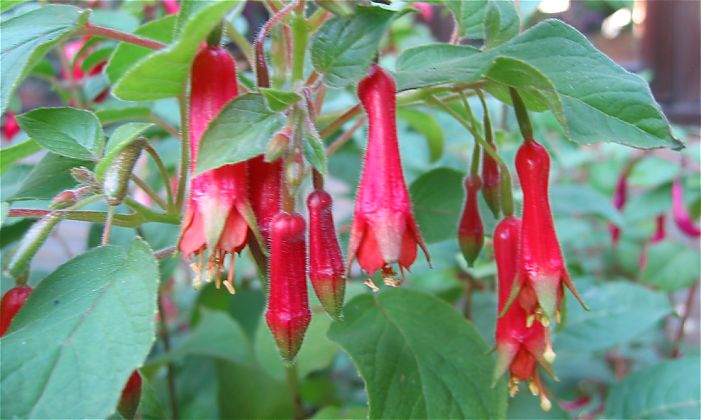 'Vuurwerk' met zijn platte, tweezijdig symmetrische bloemen lijkt heel veel op de botanische fuchsia F. splendens, waarvan er dan ook veel in zit. De moederplant 'Space Shuttle' zelf heeft deze plant als vader en 'Speciosa' als moeder, terwijl de raadselachtige 'Speciosa' (ook wel aangeduid als Fuchsia x speciosa) een kruising zou zijn tussen Fuchsia splendens en F. fulgens.
Een Franse pagina met een mooie foto is hier heel beslist over, en de plant op de foto maakt deze stelling ook heel aannemelijk.
Deze plant is ook weer de vader van 'Vuurwerk'.
'Vuurwerk' with its flat 2-sided symmetrical flowers looks a lot like the botanical species Fuchsia splendens, which occurs in its parentage more than once. De motherplant 'Space Shuttle' itself has this species as father, while the mysterious 'Speciosa' (often called Fuchsia x speciosa) would be a crossing between F. splendens and F. fulgens.
A French page with a good photo is positive about this, and looking at the plant in that photo it seems quite plausible to me.
This plant is also the father of 'Vuurwerk'.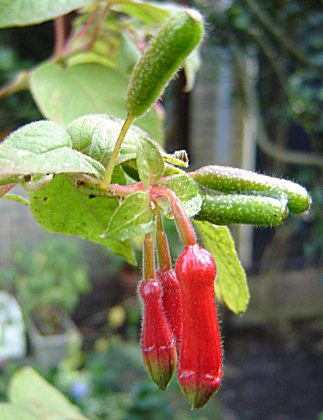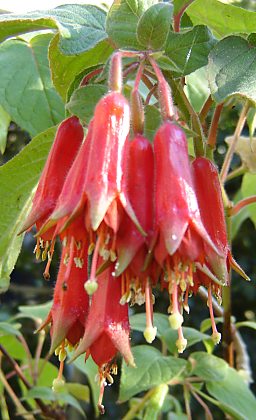 Linksboven een foto die in november 2005 werd genomen. Er zitten vruchten aan de plant, die gevlekt zijn en op komkommertjes lijken, maar ook nog knoppen in verschillende maten. De beharing op alle plantendelen is op deze foto ook duidelijk te zien.
Rechtsboven een uitbundig bloeiende tros in de zomer.
Above left a picture taken in November 2005. There are fruits on the plant, speckled and cucumber-shaped, but also buds in various sizes. The hairyness of the plant strikes in this photo.
Above right an abundantly flowering raceme in summer.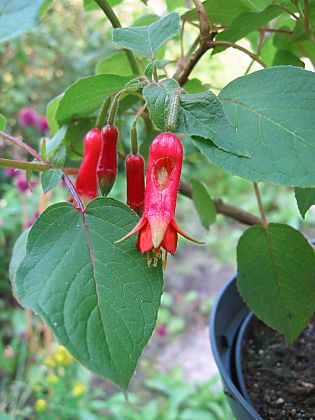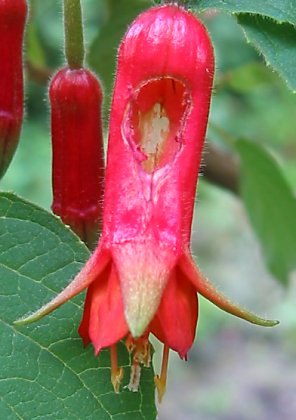 Bovenstaande foto (met detail ernaast) is genomen in 2004, een zomer die ondanks weinig warmte en zonneschijn een geweldige invasie van wespen opleverde. In mijn tuin stortten ze zich op bepaalde typen fuchsia's met een korte brede buis. In deze 'Vuurwerk'-bloem knaagden ze ook een gat, op zoek naar de honing die ze via de officiŽle weg langs stamper en meeldraden niet konden bereiken.
Above left picture (with detail beside it) was taken in 2004, again a summer without much warmth and sunshine. In spite of this, lots of wasps were about all over Europe. In my garden they molested certain kinds of fuchsias with a wide short tube. They gnawed a hole in this 'Vuurwerk' flower as well, looking for honey they couldn't reach going the official way along pistil and stamens.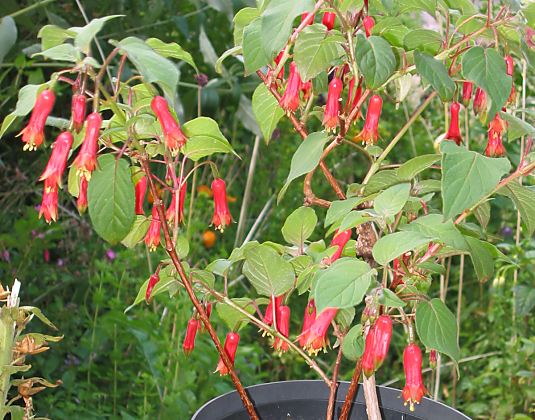 Uitbundige bloemenpracht in zomer 2005 / Free-flowering plant in summer 2005

Nog een 'Vuurwerk'-bladzijde met enige scans / Another 'Vuurwerk'-page with some scans