No. 17 - Maretak - Mistletoe
Viscum album (Viscaceae)
De maretak is in Nederland zeldzaam, wordt hier ook (bijna?) niet als kerstversiering te koop aangeboden, en dientengevolge heb ik in m'n hele leven nog nooit zo'n plant van dichtbij gezien, helaas.
Eén keer, op een regenachtige dag in Parijs, ergens in 1973, bezocht ik het Bois de Boulogne (vluchtig slechts, het weer was slecht), en zag toen maretakken in de bomen groeien, metershoog, onbereikbaar en onmogelijk te fotograferen want het was veel te donker. Vandaar dat ik geen enkel beeldmateriaal heb om met deze boldoot-kaart te vergelijken.
De plant is vergiftig, staat echter te boek als heilig in natuurgodsdiensten en behalve "volharding" is ook "onsterfelijkheid" een betekenis die eraan gehecht wordt.

Mistletoe is very rare in the Netherlands, and as far as I know it's never for sale here as a Christmas-decoration either. So I never ever saw this plant from near-by, alas.
Only once, on a rainy day in Paris, somewhere in 1973, I visited Bois de Boulogne (for a short while, the weather was miserable), and there I saw mistletoe growing in the trees, far too high to reach or to take a photograph, and it was too dark as well. So I do not have any picture to compare with this card...
The plant is poisonous, but is considered sacred in nature-religions. The meaning of the Dutch word 'Volharding' is "perseverance". Another meaning attributed to Mistletoe is "immortality".



Gedichten over maretak / Poems about Mistletoe:

Mijn maretak - Bob van St. Job

Mistletoe (a Christmas poem) - Walter de la Mare (1873 -1956)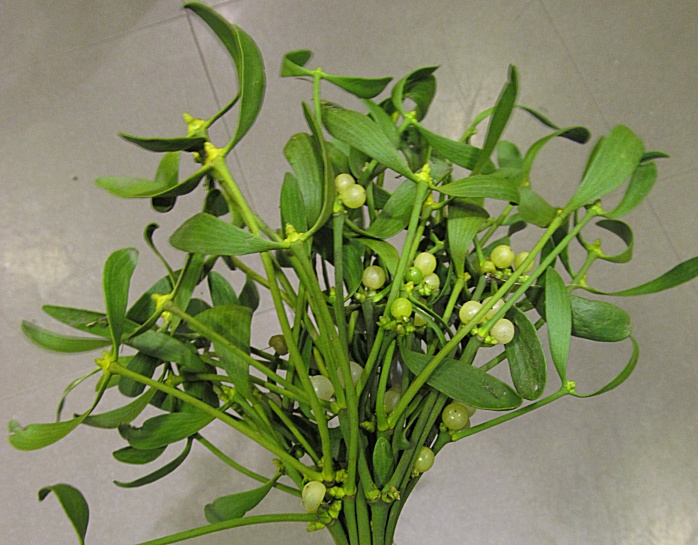 Toch nog een foto, in een supermarkt voor Kerst 2013 / One photo yet, in a supermarket before Christmas 2013