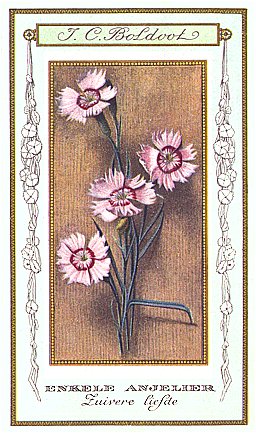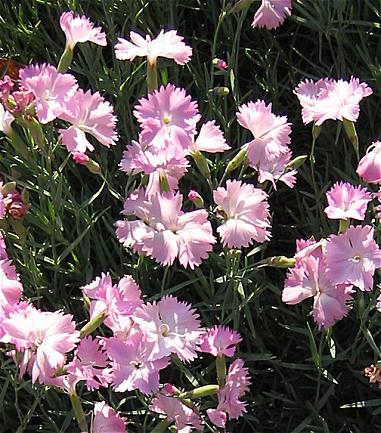 No. 38 - Enkele anjelier - Garden pinks
Dianthus fragrans (Caryophyllaceae)


Meerjarige, enkele, geurige tuinanjertjes, met kleine bloemen maar wel veel, als ze het goed doen. Ze bloeien in juni. Stengels en blad zijn blauwachtig bedauwd en licht van kleur. Ze lijken wel wat op Chinese anjers, maar die geuren minder en hebben fellere kleuren, en groener blad en stengels zonder "dauw", en hun bloei is meer gespreid over de zomer.
De witte anjertjes onderaan zijn enkele jaren geleden gesloopt door stratenmakers die het trottoir langs onze tuin kwamen ophogen, en blijkbaar niet ge´nspireerd werden door "Zuivere liefde"...

Perennial, single-flowered, fragrant gardenpinks, with small but many flowers, if they grow well. They bloom in June. Stems and foliage are a bit bluish, dew-covered and light-coloured. They resemble China carnations, but those don't have much scent and are brighter-coloured, and have greener, dewless leaves and stems, and their bloom is more spread over summer.
The white pinks below were demolished a few years ago by road workers, sent by the municipal authorities to raise the pavement bordering our garden. These men certainly weren't inspired by 'Zuivere Liefde' (which means 'Pure love') when they committed this crime...


Gedichten over anjelier / Poems about pinks :

De Anjelier - Johan Michiel Dautzenberg (1850)

Sheltered garden - H.D.