WALZ Toeter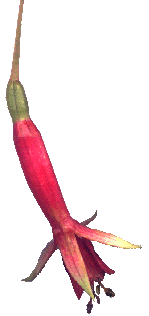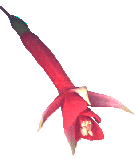 WALZ Toeter - Waldenmaier 1987 NL O E/tr oranjerood L.paarsrood / B S orange-red l.purple-red

Ouders / Parentage : (Fuchsia magdalenae x F. fulgens grandiflora) x 'WALZ Brandaris'


| | | |
| --- | --- | --- |
| 'WALZ Toeter' is één van de "muziekinstrumenten" van kweker Waldenmaier, ik heb deze fuchsia al enige jaren en eerst was ik er niet zo enthousiast over omdat hij maar matig groeide en bloeide. In tegenstelling tot wat ik verwachtte heb ik de plant diverse winters doorgesleept, in een pot maar waarschijnlijk ook een keer ingekuild, wat eigenlijk bij de WALZ-muziekinstrumenten (afstammend van de tere Fuchsia magdalenae) wordt afgeraden, en vaak ook terecht. | | 'WALZ Toeter' is one of the "musical instruments" of fuchsia-hybridizer Waldenmaier. I have had this plant for some years already, in the beginning I wasn't too enthousiastic about it because it didn't grow and flower very well. I had never expected it to last very long, but it survived several winters with me, in a pot but probably also under peat-litter, which is not recommended for offspring from the tender Fuchsia magdalenae. |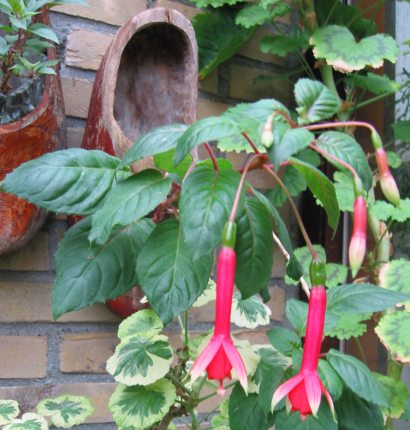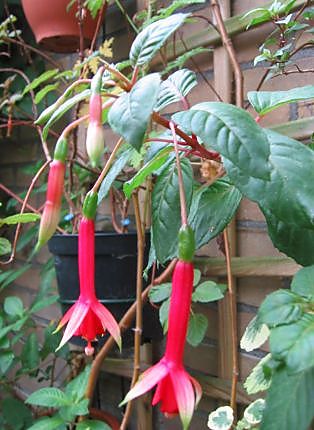 | | | |
| --- | --- | --- |
| Hier groeit de plant in een klomp aan de muur, nogal in de schaduw. Meestal komt hij in de zon meer tot zijn recht. | | Here the plant grows in a wooden shoe, in the shadow. In the sun it has a better chance to flower. |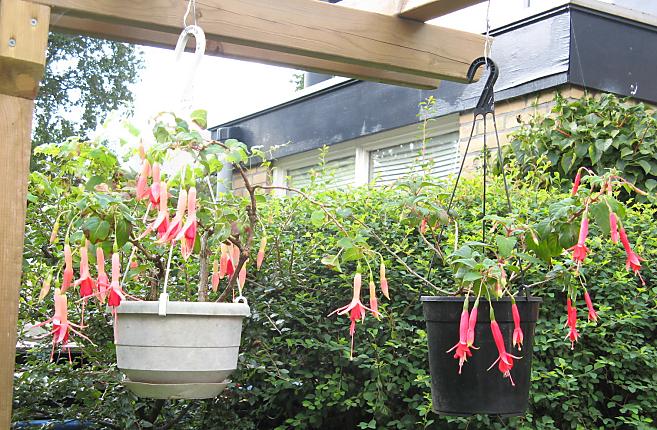 De laatste twee jaren (2006 & 2007) heb ik redelijk succes met 'WALZ Toeter', op deze foto hangt hij aan een pergola (rechts naast 'Mrs Rundle') en bloeit aardig.
Het was niet echt een geweldige zomer in 2007, ik had in de meeste fuchsia's niet veel bloei.
The last two years (2006 & 2007) 'WALZ Toeter' has been more successful in flowering, it hangs from a pergola in this picture, with next to it 'Mrs. Rundle' on the left.
We didn't have a good summer in 2007, in most of my fuchsias I had not much bloom.

Hierboven twee detailfoto's van 'WALZ Toeter' aan de pergola.
Above two detail-photos of 'WALZ Toeter' on the pergola.





De groengepunte kelkbladen van 'WALZ Toeter' zijn meestal wat korter dan de kroon, en staan vrijwel horizontaal uit, vooral als de bloem wat ouder wordt.
De lange buis is nogal vierkant.
The green-tipped sepals of 'WALZ Toeter' often are a bit shorter than its corolla, and tend to stick out almost horizontally, especially when the flower ages.
The long tube is rather square.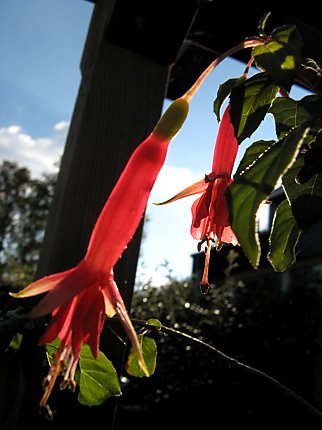 Bevroren 'WALZ Toeter' aan de pergola, op 23 oktober 2007, na een fikse vroege nachtvorst.
De plant zelf overleeft dit wel, maar knoppen en bloemen zijn verloren.

Frozen 'WALZ Toeter' on the pergola, on 23 October 2007, after an early frosty night.
The plant itself will survive, but the buds and flowers are lost.