Camphuys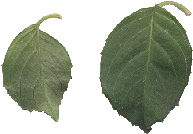 Camphuys - de Boer 2000 NL H E witrose witrose / T S whitepink whitepink

Ouders/Parentage: Caitlin Isabelle x (Whiteknight's Pearl x Whiteknight's Pearl)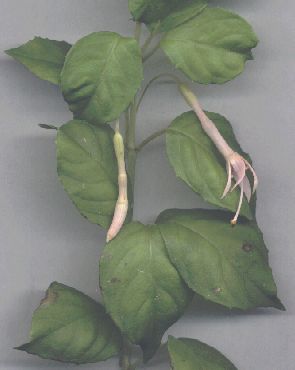 Deze fuchsia is, evenals Irving Alexander, een nieuwe introductie van Jan de Boer.
De plant doet denken aan Irving Alexander, maar lijkt eerder een soort "voorstudie", het blad is ongeveer gelijk en de kleur ook, maar de grootte en vorm van de bloem zijn veel minder spectaculair.
Deze heeft ook veel weg van Caitlin Isabelle (1998), die dan ook de moeder is van deze plant.

This fuchsia is, like Irving Alexander, a new introduction of Mr. Jan de Boer.
The plant reminds of Irving Alexander, but seems to be a kind of "preliminary sketch", the foliage is very much alike and so is the colouring of the flower, but flowersize and shape are far less spectacular. This one also looks a lot like Caitlin Isabelle (1998), this plant's mother.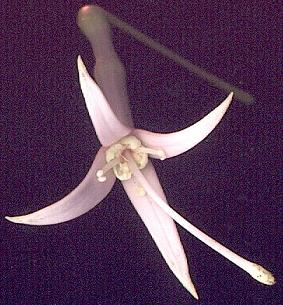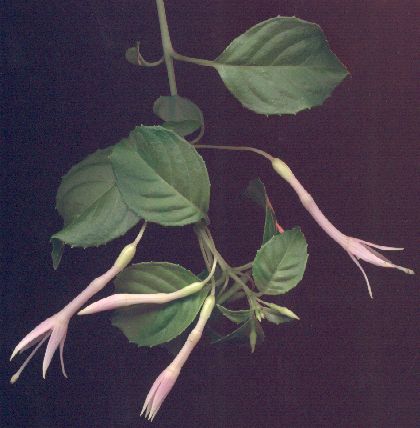 Linksboven een scan van een bloem (ongeveer 3 x vergroot), waarbij de zeer korte kroon goed te zien is. Daarnaast een takje op ongeveer ware grootte.

Above (left) a scan of the flower, about 3 x enlarged, in which you see the very short corolla.
On the right a flowering branch, about real size.