Bladcactus - Phyllocactus Epiphyllum hybr. (Cactaceae)

Een rode langs de kant van de weg / A red one on the roadside


Op vakantie in Oostenrijk (aug. 2005) zag ik bladcactussen buiten staan. Hoewel het in die periode niet bepaald warm weer was, is het klimaat in Oostenrijk 's zomers blijkbaar toch wat warmer en zonniger dan in Nederland, want de planten bloeiden dat het een lust was. Daar kunnen onze kamerplanten niet aan tippen. Hiernaast een rode Epiphyllum tegen een brandkraan, niet echt een decoratieve omgeving, en de plant zelf was ook hier en daar best wat "verweerd" en beschadigd. Maar bloeien deed hij!

On holidays in Austria (August 2005) I saw Phyllocactuses in pots outside. Although it wasn't really warm during that period, apparently the climate in Austria must be warmer and sunnier than in the Netherlands, for the plants bloomed enthusiastically. Our houseplants can't hold a candle to them. On the right a red Epiphyllum put against a fireplug, not a very decorative spot, and the plant itself proved to be a bit battered and damaged here and there. But sure it bore flowers!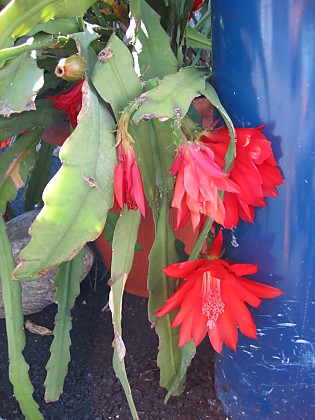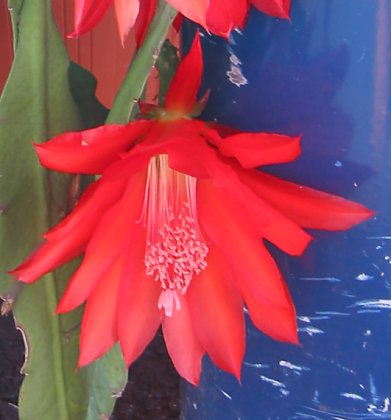 Felrode bloemen tegen de felblauwe achtergrond van de brandkraan. Linksboven een jonge vrucht
Bright red flowers against the fireplug's blue background. In top of picture left a young fruit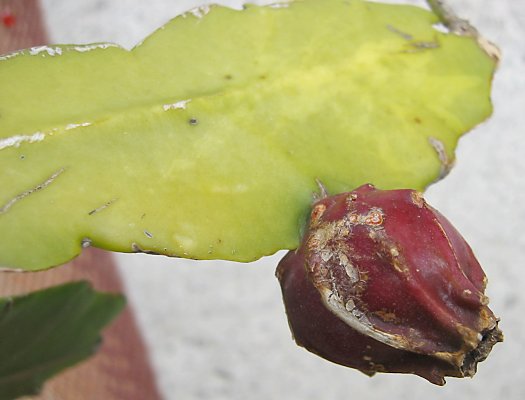 Iets wat men binnenshuis ook eigenlijk nooit ziet: een rijpende vrucht aan de bladcactus
Something you don't see with indoor Phyllocactuses: a ripening fruit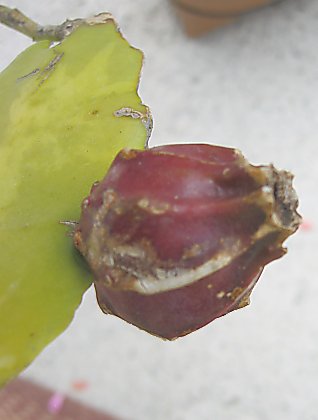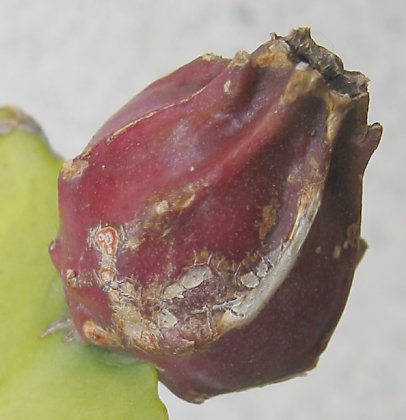 Waarschijnlijk zijn hier ook bestuivende insecten voor nodig geweest
Probably insects did the fertilizing work

Een geelbloeiend exemplaar / A yellow-flowering one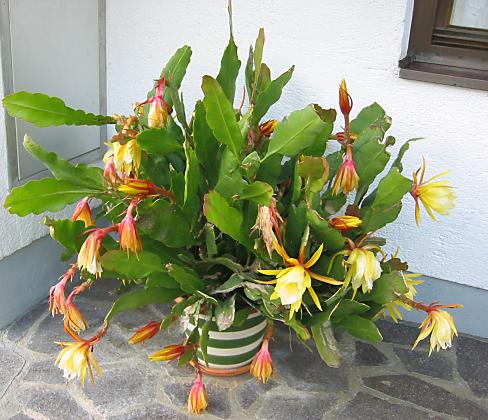 Op een tuinterras stond een beter verzorgd exemplaar met lichtgele bloemen
A better cared-for plant with bright yellow flowers on a garden-terrace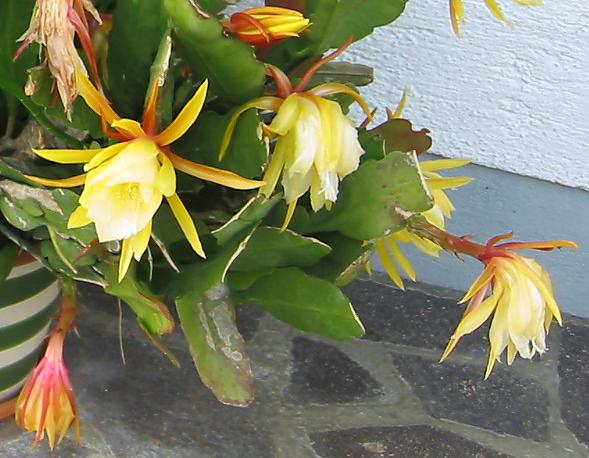 Maar ook hier hebben de bladvormige stengels geleden onder weer en insecten
But even here the cladodes suffered from weather and insects