Haagwinde - Greater bindweed
Calystegia sepium (Convolvulaceae)




Zuiver wit is de meest voorkomende kleur van haagwinde. Bovenstaande foto werd genomen in ItaliŽ, bij het Lago Maggiore.
Pure white is the most common colour of greater bindweed. The top picture was taken in Italy near Lago Maggiore.






Een bloem in detail; karakteristiek voor winde zijn de vijf gaatjes rond stamper & meeldraden.
A flower in detail; characteristic for bindweed are the five holes around pistil & stamens.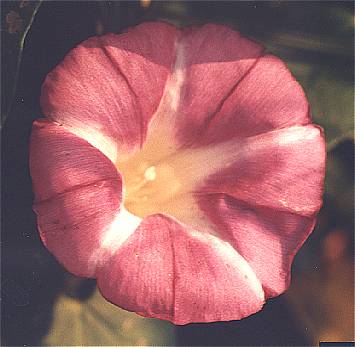 In de provincie Friesland (waar ik zelf woon) kwamen vrij veel ietwat rose haagwindes voor, zoals die op de eerste bladzijde, maar sinds een paar jaar zie ik die heel weinig meer. De bloem links is echter extreem rood; op een plaats in de Groene Ster, het recreatiegebied bij Leeuwarden, groeide rond 1990 een plant met deze vrij donkerrode bloemen. Helaas ging zij verloren door uitbreiding van het aangrenzende golfterrein.

In the province of Friesland, in the north of the Netherlands (where I live) many pale-pink bindweedflowers occurred (as shown on the first page), but they seem declining during the last few years. The flower on the left is even red - in a spot in the recreative area Groene Ster (= Green Star) near Leeuwarden, there used to grow a plant with these rather dark-red flowers around 1990. It vanished when adjacent golf links were extended.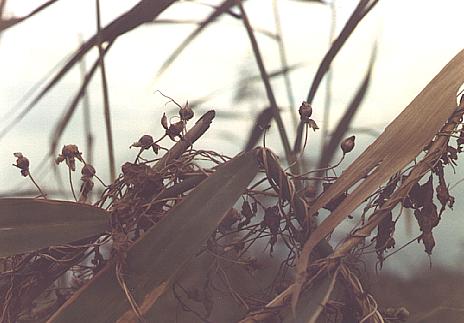 Hierboven en onder een herfstbeeld van afgestorven haagwinderanken met vruchten, rond rietstengels. Haagwinde is een overblijvende plant, die wortelstokken vormt onder de grond. In het voorjaar lopen ze weer uit.
Above and below some dry bindweedstems bearing fruits, around reed in the autumn. Greater bindweed is a perennial, making rhizomes underground. In spring they form new sprouts.