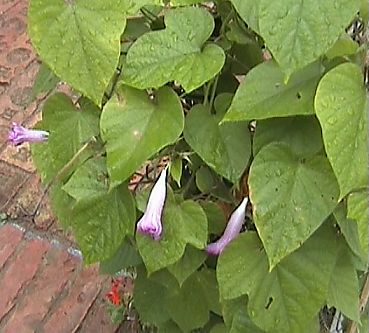 Hiernaast en boven uitgebloeide bloemen, die al bezig zijn af te vallen. De blauwe kleur trekt al uit de bloem weg voordat hij in elkaar is geschrompeld, er komt lila voor in de plaats.
Let op de bladeren. Er zijn zowel hartvormige als drielobbige, min of meer handvormig. In JoegoslaviŽ (1983) en Madeira (1987) heb ik planten gezien met alleen de drielobbige bladvorm, als ik mij goed herinner.

Left and above some faded flowers, ready to drop off. The blue colour already vanishes from the flower when it starts crumpling up, mauve takes its place.
Look at the leaves. There are heart-shaped as well as three-lobed ones. In Yugoslavia (1983) and Madeira (1987) I saw plants with only three-lobed leaves, as far as I remember.