nieuw 18-4-04: witte of roze bloemen? / new 18-4-04: white or pink flowers?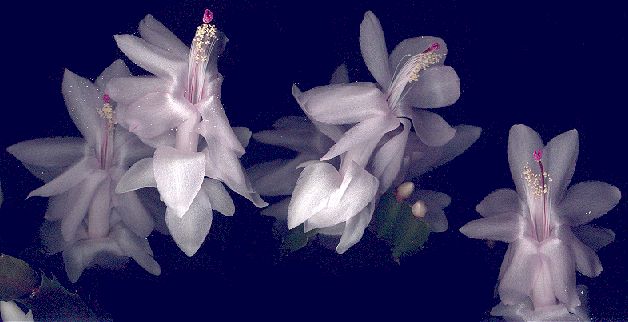 Lidcactus - Zygocactus - Schlumbergera hybr. - (Cactaceae)


Deze plant bloeit tussen november en januari, in de kortste dagen van het jaar.
Hier een exemplaar met witte tot lichtrose bloemen. Merkwaardig genoeg waren de bloemen vorig jaar (1998) duidelijk rose, dit jaar (1999) bijna wit
(zie foto's hieronder). Foto rechts: jonge bloem.
Klik hier voor een grotere scan van een rose bloem (zij-aanzicht) (51 K).

The Zygocactus' flowers may appear from November to January, during the shortest days of the year.
This one has very light-coloured flowers, but colours vary from white to darkred. Last year (1998) this plant gave pink flowers, this year (1999)
they're almost white (see pictures below). On the right: Newly opened flower.

For a bigger scan of a pink flower (side-view) from 1998, click HERE (51 K).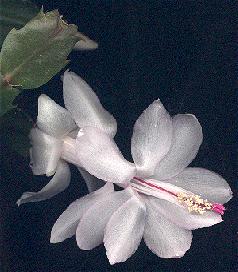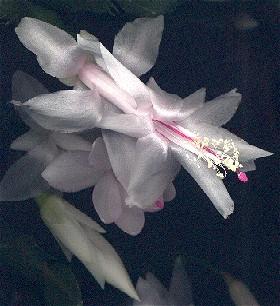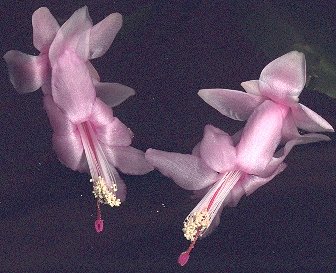 1999 1998



Toevoeging 2003.
De plant bloeit bij mij ieder jaar in november, alleen in 2002 liet hij verstek gaan. Waarschijnlijk had hij een koele rustperiode nodig, ik zette 'm teleurgesteld op een koude slaapkamer, waar in het vroege voorjaar van 2003 knoppen verschenen.
Ik zette de plant toen weer in de woonkamer, waar hij in april bloeide, en bleef staan tot de volgende bloei in november! In feite heeft de plant dus twee keer gebloeid in 2003.
Addition 2003.
Every year in November the plant comes into bloom, except in 2002, no flowers appeared.
It probably needed a cool resting period, I put it in a cold bedroom-window, where it came into bud in the early spring of 2003.
I brought it back into the livingroom, where it flowered in April 2003. During summer and autumn 2003 it stayed in the livingroom, where it flowered again in November, for the second time that year.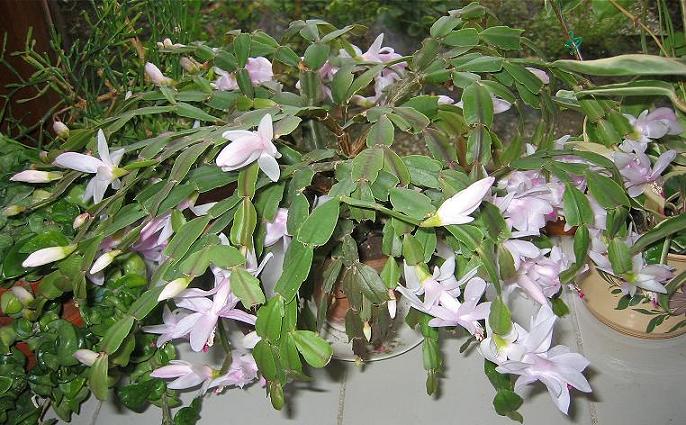 Fors gegroeid, in knop & volle bloei - November 2003 - Grown a lot bigger, in bud & full bloom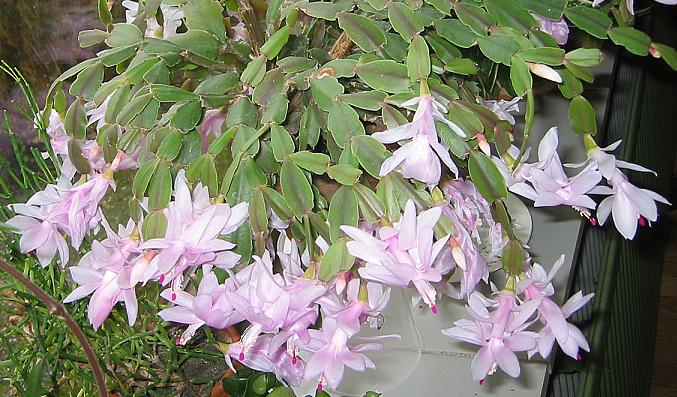 Hieronder: detail bloemenweelde (nov. 2003) / Below: detail of profuse flowering (Nov 2003)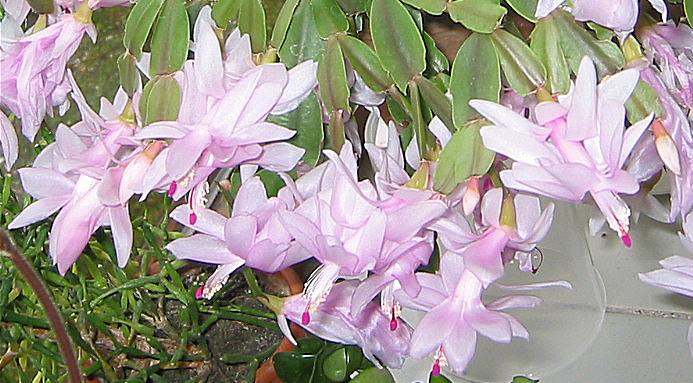 nieuw 18-4-04: witte of roze bloemen? / new 18-4-04: white or pink flowers?



Volgens een lidcactussen-expert zou de roze kleur ontstaan door een te lage temperatuur (onder 18° C), terwijl de plant om ècht wit te bloeien eigenlijk wel 21° C nodig heeft. Overwintering zou volgens hem niet op een koude kamer mogen:
"Een misverstand bestaat over de winterrustperiode. Kerstcactussen horen het hele jaar een beetje vochtig te worden gehouden en juist wat droger in de zomer en wat natter vanaf oktober."
Om een goede groei en bloei te verzekeren zou de plant ieder jaar omstreeks maart moeten worden verpot in nieuwe potgrond, die goed doorlatend moet zijn (bijv. door er zand bij te mengen).
According to a Zygocactus-expert the pink colour would be caused by too low overwintering temperatures (below 18° C). It should be kept at 21° C to get these purely white flowers. Overwintering in a cold room isn't right, he says. The soil should be kept a bit moist during the year, a bit drier during summer, while from October on more water should be given.
To be sure of good growth and flowering results, the plant should be repotted around March every year in new pottingsoil, which should be permeable enough (e.g. by mixing in some sand) to avoid "wet feet" which may cause fungi.