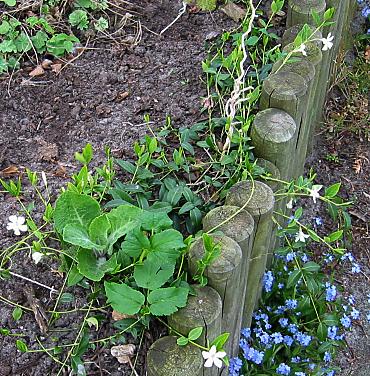 Behalve bontbladige exemplaren (normaal is het blad donkergroen) zijn er ook nog witbloeiende. Deze ziet men niet zoveel. Toevallig trof ik de plant links en hieronder aan in een tuin in ons dorp.
De kleine maagdenpalm onderscheidt zich van de grote (Vinca major) door smaller blad, kleinere bloemen en een kruipender karakter. De grote maagdenpalm heeft meer de neiging omhoog te groeien.

Besides variegated periwinkles (normally the foliage is dark-green) there are also white-flowered ones. Those are not very common. I happened to see the plant shown left and below in a garden in our village.
The lesser differs from the greater periwinkle (Vinca major) by narrower foliage, smaller flowers and a more trailing character. The greater periwinkle tends to grow more upwards.