Klein kruiskruid is typisch zo'n grijsgroen onkruidje met onopvallende kleine bloemetjes dat tussen de straatstenen groeit, in gezelschap van nog meer rommelige, onopvallende onkruiden. Op de foto's staan de plantjes vlak naast onze garagedeur. Ze worden nooit erg hoog, met 30 cm in volle bloei is 't meestal wel op, in tegenstelling tot de meeste andere kruiskruiden die veel meer omhoogschieten. Hoewel evengoed vergiftig, richt deze plant waarschijnlijk amper schade aan in dat opzicht, hij groeit meer tussen de stenen dan tussen gras dat gemaaid en eventueel als veevoer gebruikt wordt.
Groundsel is a typical street-weed, growing between stones and bricks, usually among other insignificant greygreen weeds with unsightly flowers. It grows rather low to the ground (perhaps that's where its name came from), usually no more than 30 cm / 1 foot tall in full bloom.
It shows less and is smaller than most other ragworts, but there's also less chance that its poison will be spread , because it grows more often in stony environments than among grass that may be used as cattle-feed.
(These photos were taken beside our garage-door).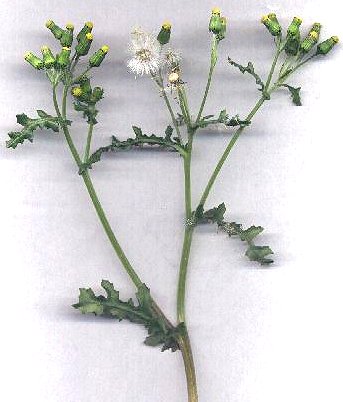 Nog enige scans / A few scans yet:

Hiernaast een vertakte bloeistengel op de scanner, op ongeveer ware grootte.

Op de grotere scans hieronder is beter te zien, dat de toppen van de omwindselblaadjes zwart zijn, zoals gebruikelijk bij Klein kruiskruid. Niet op alle foto's komt dit even goed uit.


On the left a branched flowering stem on the scanner, at about real size.

In the bigger scans below it is more clearly visible that the tips of the involucre-leaflets are black, as is common with Groundsel. Not in all pictures you can see this very well.