Merel - de Cooker 1993 NL H HD/D geelgroen oranjeroze-basis groen / T SD/D yellowgreen cream-bas. l.green

Ouders / Parentage: 'Speciosa' x 'Wilson's Pearls'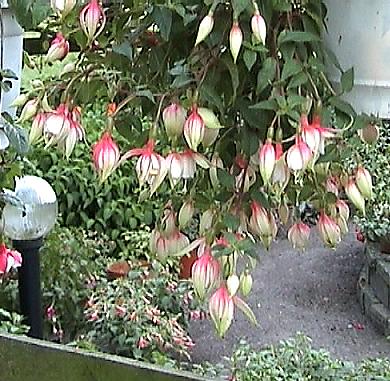 Deze fuchsia heeft een opmerkelijke kleurencombinatie met een rode buis en uitgesproken groene kelkbladen.
Ik zag de plant begin augustus 2002 in een "open tuin", en hoorde dat het niet zo'n heel makkelijke fuchsia is. Aan het eind van de maand zag ik in een andere open tuin een exemplaar dat helemaal onder de roest zat, blijkbaar is deze plant daar ook behoorlijk gevoelig voor.

This fuchsia has a remarkable colouring, with its red tube and very green sepals. I saw it in an "open garden" in August 2002, and heard it should be not an easy one in cultivation. By the end of the month I saw the same cultivar in another open garden, totally covered with rust - it must be rather susceptible.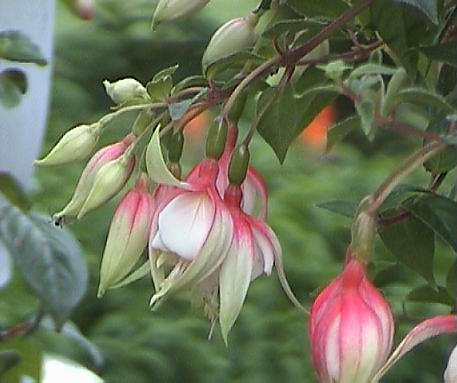 Wat me intrigeert, is waarom de naam Merel is gekozen. Vanwege de vogel, of vanwege een dame die zo heette? De beroemde zangvogel geeft mij gemengde gevoelens na wat ik er het afgelopen jaar (2002) mee heb beleefd...
I wonder, what might have been the reason to call this plant Merel (meaning blackbird) - was it the bird, or a lady bearing this name that inspired the grower? The famous songbird has given me mixed feelings after what I experienced with it last year (2002)...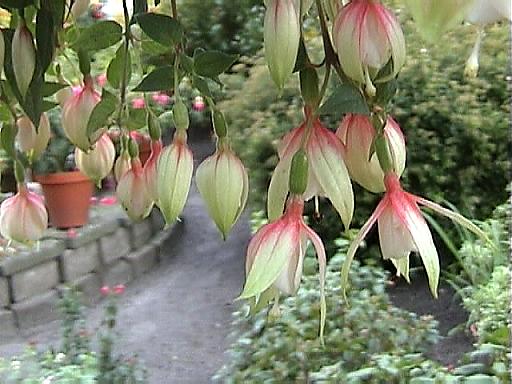 Een mooie hanger, fraai van vorm en kleur.
Bij iedere knoop verandert de stengel van richting, wat de plant een karakteristiek uiterlijk geeft.

P.S.
Uit betrouwbare bron heb ik inmiddels vernomen, dat 'Merel' is vernoemd naar een terriėr van de veredelaar Mario de Cooker.
In feite dus knap ingewikkeld:
Fuchsia genoemd naar hond die op haar beurt naar een vogel is genoemd!

nieuw 16-11-2003:
Commentaar en foto's van de kweker zelf...
Trailing fuchsia, beautiful in shape and colour. At every node the stem changes direction, which gives this plant a special appearance.

P.S.
From a reliable source I just heard, that 'Merel' (Dutch for 'blackbird') was named after a terrier belonging to the grower of this fuchsia, Mario de Cooker.
So you see, it's quite complicated:
A plant was called after a dog which was called after a bird!

new 16-11-2003:
Comments and photos by the grower himself...