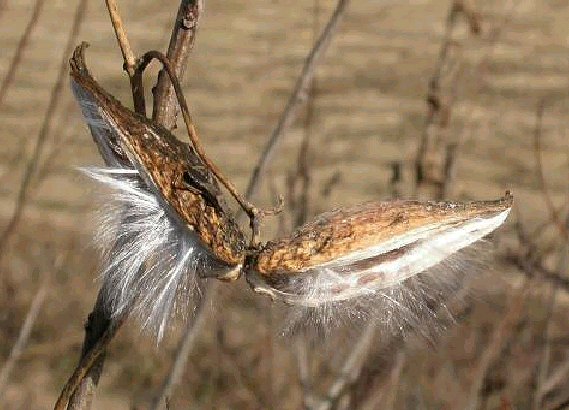 Gagaimo - Metaplexis japonica (Asclepiadaceae)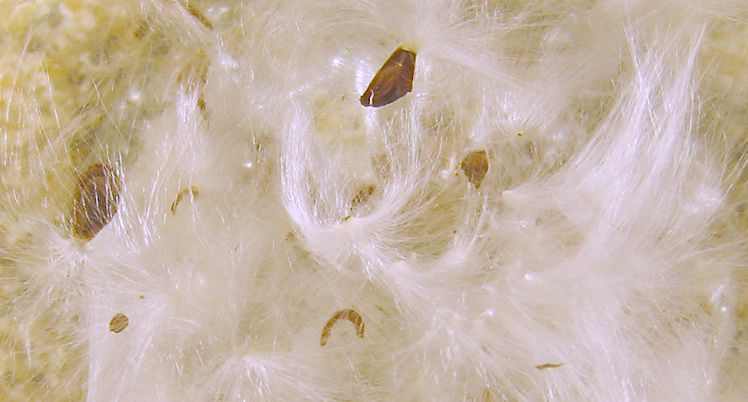 Van een kennis die beroepshalve in Zuid-Korea verblijft kreeg ik een foto van een intrigerende zaaddoos die hij op de dijk langs de rivier de Nakdong had gezien in het najaar van 2003.
Uit een Koreaanse flora bleek hem dat het een Metaplexis japonica moest zijn, een klimplant die behoort tot de Zijdeplantfamilie evenals de Hoya en de Stephanotis die bij ons wel als kamerplanten worden gekweekt.
Vervolgens stuurde hij me een aantal zaden op, papierdunne bruine vliesjes temidden van een enorme hoeveelheid zijdeachtige witte pluizen.
Na ze eerst aan een paar nachtvorsten te hebben blootgesteld zaaide ik er een aantal in een met doorzichtig plastic afgedekt bakje, in het vroege voorjaar van 2004. Ze kwamen op, de plantjes zagen er heel wat steviger uit dan de zaden.
Helaas kwamen de planten niet in bloei, maar in zoverre was het een succes dat ze in de loop van de zomer behoorlijk groeiden, ze klommen anderhalve meter hoog om een paar stokken, maar toen het herfst werd vergeelden de bladeren en de planten stierven bij de grond af, net als bij haagwinde die overigens tot een heel andere plantenfamilie behoort, zonder melksap. Bij de minste verwonding aan blad of stengel komt er melksap uit de Metaplexis japonica, net als bij Euphorbiacaea.
From an acquaintance living in South Korea professionally for several years, I got a picture of an interesting dry fruit he'd noticed on the banks of the river Nakdong there in the autumn of 2003.
From a Korean flora he gathered it should be a Metaplexis japonica, a climber belonging to the Milkweed-family like Hoya and Stephanotis, which are cultivated as houseplants with us.
In January 2004 he sent me a few of these paper-thin brown seeds among lots of silky fluff.
After exposing them to a few frosty nights, I sowed some of the seeds in a box covered with transparent plastic in the early spring of 2004. Little plants emerged, which looked a lot sturdier than the seeds within a few weeks.
The plants didn't bear any flowers to my regret, but so far were successful that they grew vigorously during summer, climbing about 1.5 m around a few sticks, but when autumn came the leaves turned yellow, dropped off and the plants died back to the ground, just like greater bindweed / hedgebells, although this belongs to quite a different plant family with no milky juice.
The slightest wound lets out white milk from the stems or leaves of Metaplexis japonica, similar to Euphorbiaceae.
Hiernaast twee zaden apart, gescand tegen een blauwe achtergrond. Ze zijn heel licht doordat ze zo dun zijn, zodat ze makkelijk op de wind meedrijven naar een andere plek.

On the right two separate seeds, scanned against a blue background. They are very light because they're so thin, so they easily can be taken away quite a distance by the wind.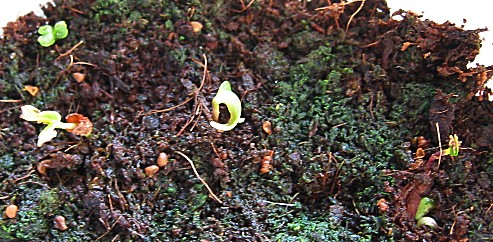 Kiemplantjes (16 april 2004) / Seedlings emerging (16 April 2004)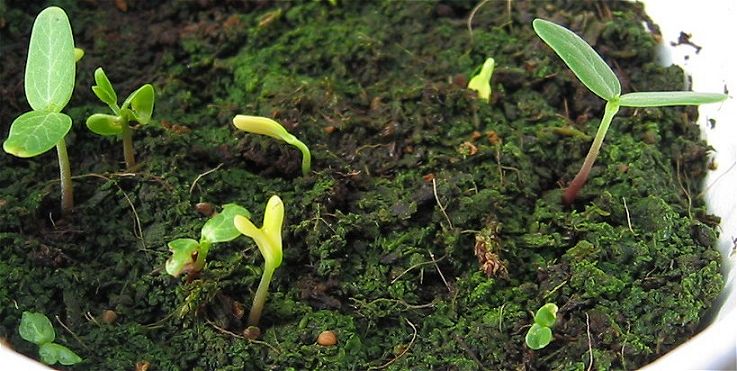 Zaailingen op 26 april 2004 / Seedlings on 26 April 2004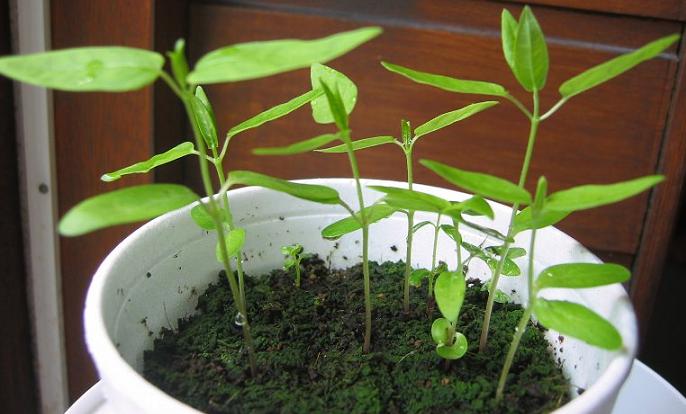 Op 24 mei waren het al hele plantjes / On May 24th they looked like real little plants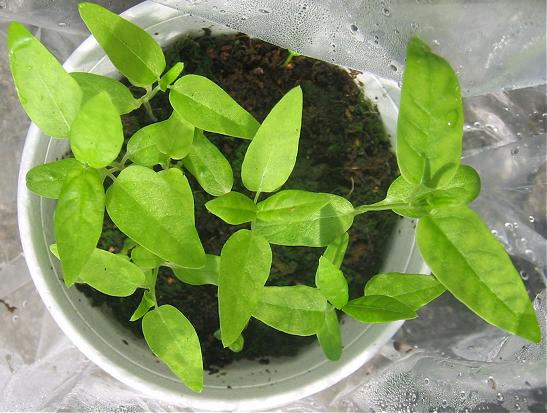 Bovenaanzicht op 28 mei 2004 / Plantlets seen from above on 28th of May 2004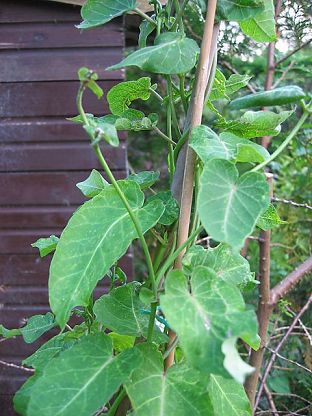 Op 8 augustus waren de planten ongeveer 70 cm hoog / 8 August: a height of about 70 cm had been reached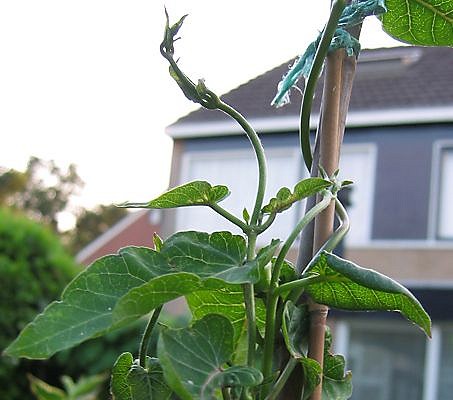 Windende ranken die wel aan haagwinde doen denken / Twining tendrils reminding of hedgebells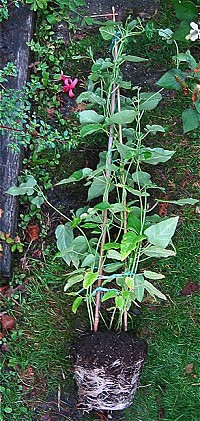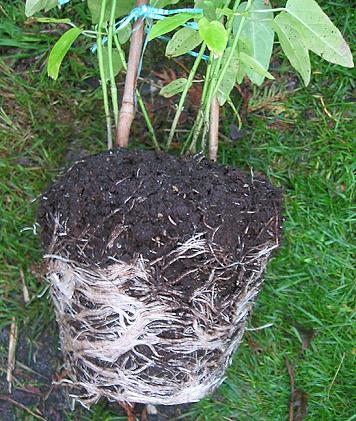 Op 12 augustus maar weer eens verpotten.
Een dicht wortelstelsel dat er wel gezond uitziet.
Het moeten overblijvende planten zijn, dus hopen we er het beste maar van voor volgend jaar - zullen ze de winter overleven, en komen er volgende zomer ook bloemen aan?
Repotting on the 12th of August.
The dense root-system looks rather healthy.
The plants are perennial, so we hope for the best next year - will they survive the winter, and would there be any flowers next summer?
Bloeiende planten in hun natuurlijke omgeving in Zuid-Korea
Flowering plants in their natural habitat in South Korea