Mediterrane zeewinde - Silvery mallow-leaved bindweed
Convolvulus althaeoides ssp. tenuissimus (Convolvulaceae)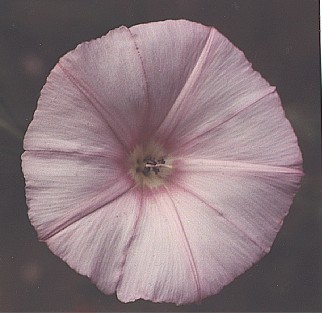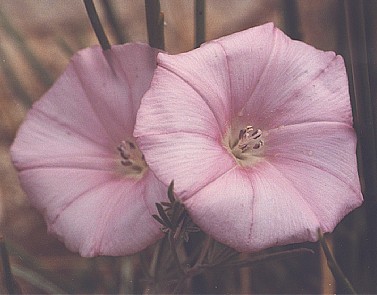 In 1983 kwam ik op vakantie in het toen nog communistische maar tamelijk vredige JoegoslaviŰ op het eiland Lokrum voor de haven van de Kroatische havenstad Dubrovnik deze planten tegen, op een fort dat op dat eiland stond. De bloemen waren ongeveer even groot als die van akkerwinde, maar de stengels en sierlijke, sterk ingesneden bladeren waren zilverig van kleur en veel fijner van bouw. De bloemen waren van een egaal en heel teer rose. Er groeiden er daar zoveel, dat ik het waagde een paar zaden mee te nemen naar Nederland.
Linksonder een detail van het bloemhart, rechtsonder de zaden, op ware grootte en 5 x vergroot.
On holidays in 1983 I came across this plant in Yugoslavia, at that time still under communist regime but rather peaceful. There is an island called Lokrum in front of the port of Dubrovnik in Croatia, where I found them on a fortress. The flowers were about the same size as those of field bindweed, but the stems and elegant, strongly incised leaves had a silvery colour and were very slender. The one-coloured flowers were of a very tender pink. There were so many there, that I ventured to take a few seeds with me to the Netherlands.
Below left a detail of the flower's inside, below right the seeds, real size and 5 x enlarged.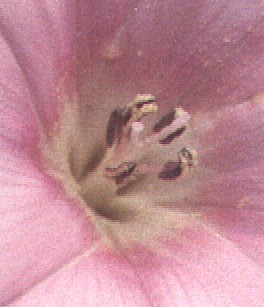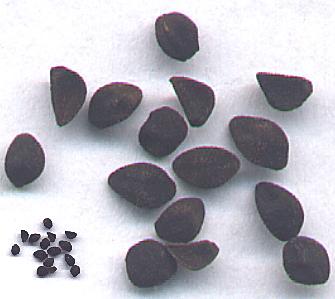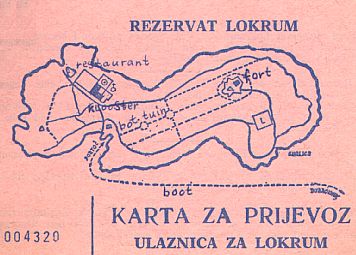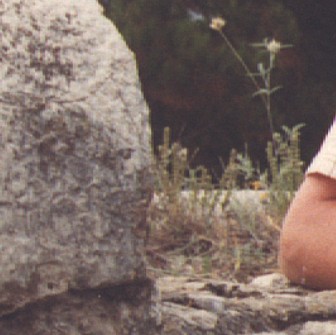 Linksboven het bootkaartje om met de veerboot vanuit Dubrovnik naar het eiland Lokrum te komen. Destijds heb ik op het landkaartje wat aantekeningen gemaakt, er was een restaurant, ru´nes van een klooster en een fort, een botanische tuin, en een erg mooi landschap met een rotsenstrand waar badgasten zaten.

Rechtsboven een sterk vergroot detail uit een foto waar men de planten op de oude muren van het fort ziet, met zaaddozen erbovenuit.

Above-left the ticket for the ferry-boat from Dubrovnik to the island of Lokrum. At that time I wrote a few words in the map on it, there were a restaurant, ruins of a monastery and a fortress, a botanical garden and very beautiful scenery with a rocky beach where bathers enjoyed water and sunshine.
On the right, a strongly enlarged detail from a photo where you can see the plants growing on the old walls of the fortress, with upward-pointing seedcapsules.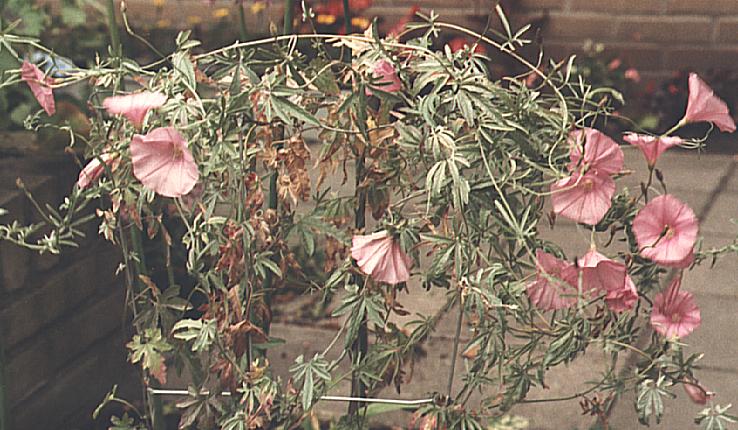 Op bovenstaande foto (genomen in mijn tuin, zomer 1985), die de bloemen niet erg scherp weergeeft (ze werden bewogen door de wind) zijn het fijne, zilverkleurige blad en ranken heel goed te zien.
The above photo (taken in my garden in the summer of 1985), though not providing a sharp picture of the flowers (they were fluttering about in the wind), gives a good impression of the slender silvery foliage and stems.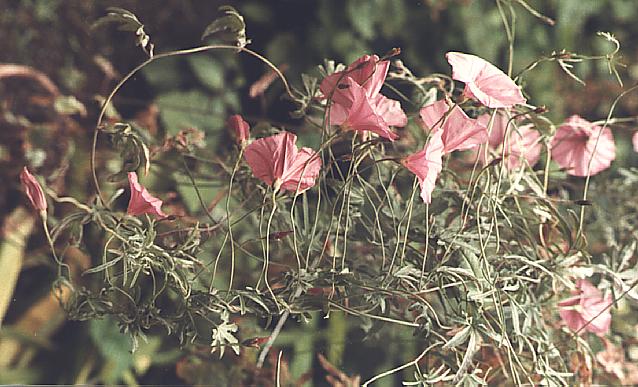 Deze foto toont de achterkant van de bloemen en laat de enorm lange bloemstengels zien.
This photo showing the back of the flowers reveals how extremely long the pedicels are.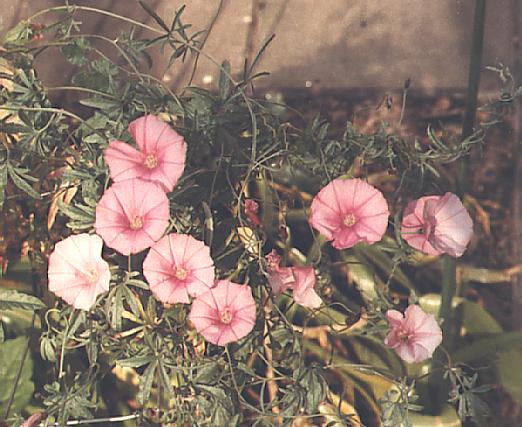 Tenslotte nog een plaatje van de rijkbloeiende plant, die 't na deze ene zomer helaas liet afweten, maar in zijn natuurlijke omgeving is het waarschijnlijk wel een overblijvende plant.
De kleur en structuur van stengels en bladeren geven de indruk dat het een specifieke kustplant is, zelfs nog meer dan Convolvulus althaeoides die groener blad heeft en iets donkerder bloemen, met een duidelijk donkerder hart.
De toevoeging tenuissimus betekent: zeer fijn, dus een fijnere ondersoort van de toch al slanke C. althaeoides.
One more picture of the free-flowering plant, which unfortunately died after this one summer, but in its natural habitat it probably is a perennial.
The colour and structure of its foliage and stems give the idea that it's a specific seaside-plant, even more so than mallow-leaved bindweed, which is greener and its flowers are a bit darker, especially inside.
The meaning of tenuissimus is: "very fine", so an even more slender subspecies of the already slim C. althaeoides.