Koningin van de Nacht - Queen of the Night - Selenicereus grandiflorus (Cactaceae)

- Drie bloemen ineens op 19 juni 2004 / Three flowers at once on 19 June 2004 -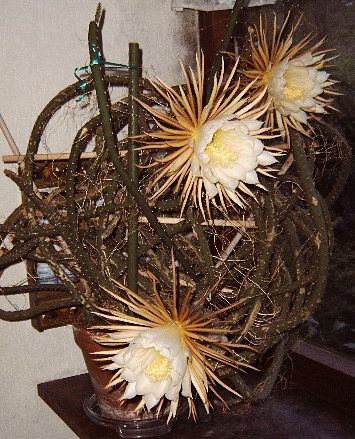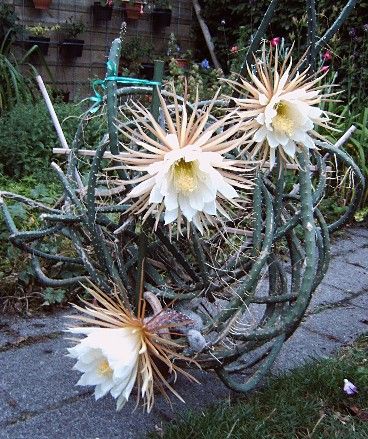 Een spectaculair gezicht: drie bloemen in één nacht! (Links binnen, rechts buiten gefotografeerd)
A spectacular sight: three flowers in one night! (Photo left taken inside, right outside)



Zijaanzicht / Sideview

Bij de basis van de onderste bloem zijn nog twee kleinere knoppen te zien
At the base of the undermost flower two smaller buds are visible yet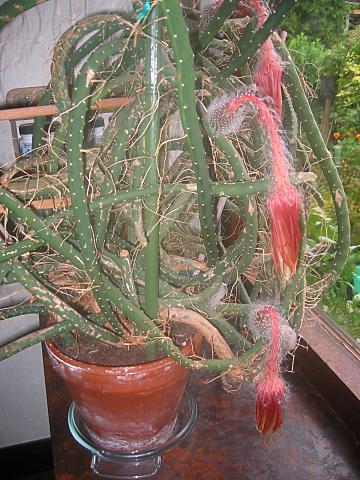 Uitgebloeid / Faded

En het verhaal eindigt dit jaar weer droevig:
Toen de drie bloemen waren uitgebloeid, werden de twee resterende knoppen ondanks mijn goede zorg en aandacht zomaar geel, en dus was er maar één bloeinacht in de zomer van 2004.
Als ik moet speculeren waardoor het mis is gegaan, vermoed ik dat 't te maken heeft met het donkere weer van de laatste weken. Ook al is het 2 maanden zeer droog geweest, het was erg vaak bewolkt weer en deze tropische plant zal meer zonlicht nodig hebben om behoorlijk te bloeien. Vermoedelijk is de bloei van de drie "geslaagde" knoppen ook op één dag gevallen omdat de plant alsmaar wachtte op een zonnige dag om de bloemen te openen. Op 19 juni was er 's middags een beetje zon en dat was het sein om eindelijk de kelkbladen los te gooien, maar het steeds terughouden van de bloei moet teveel energie van de plant hebben gevergd om de twee kleinere knoppen nog te ontwikkelen.



This year the story has a sad ending again:
After the three flowers had folded up the next day, the two remaining buds turned yellow in spite of my 'tender loving care', and so there was no more than one flowering night during summer 2004.
Speculating on the cause of this failure, I suppose it might be due to the dark weather of the last few weeks. Even though it was very dry for about 2 months at a stretch, at the same time it was very cloudy quite often, while this tropical plant will need more sunlight to develop its flowers. Probably the flowering night of the three successful buds occurred at the same time because the plant had to wait and wait for a sunny blooming-day. On June 19th there was a little sunshine at last during the afternoon, and that was the moment to finally open up the sepals - but the act of postponing the bloom must have taken too much energy from the plant to leave a chance of flowering to the two smaller buds.