Update zomer 2003 / Update summer 2003
Koningin van de Nacht - Queen of the Night - Selenicereus grandiflorus (Cactaceae)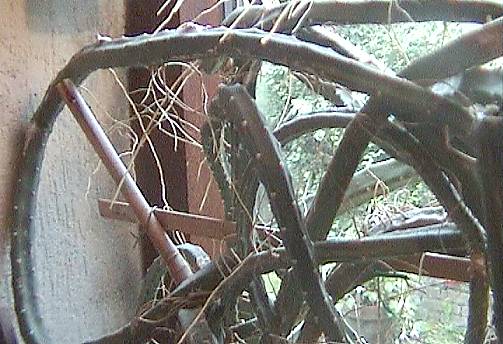 Een paar opgerolde stengels van mijn Nachtcactus, het lijken wel wagenwielen
Some rolled-up stems of my "Queen of the Night", looking like the wheels of a waggon


Hier een paar foto's van mijn eigen "Koningin van de Nacht", waarmee ik nog geen koninklijke resultaten mocht behalen - twee knoppen begin juni 2002, die er eind juni weer afknikkerden, zoals ik dat met mijn Epiphyllum vroeger ook wel beleefde, maar daar kwamen altijd veel meer knoppen aan en toch minstens 2 per jaar die wel gingen bloeien...
Hiermee is het dus dit jaar niets geworden, en tot m'n schrik zat er in de grootste knop ook alweer wolluis... Als je dat eenmaal in je planten hebt, raak je het doorgaans niet meer kwijt.

Here some pictures of my own "Queen of the Night", which didn't exactly give me a royal result up till now.
Two buds at the beginning of June 2002, which dropped off by the end of the month. When I still had my Epiphyllum, buds dropped also frequently, but each year I had at least two or three that reached the stage of flowering.
With the "real" Queen of the Night I had no success this year, and to my astonishment I discovered some waxy aphids in the biggest of the two buds.
Once you've got this pest in any plant, it's hardly possible to ever get rid of it.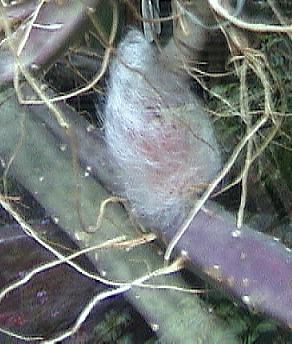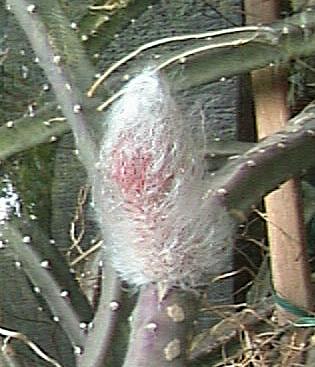 juni 2002: Blijde verwachting? / June 2002: High expectations?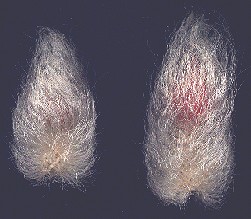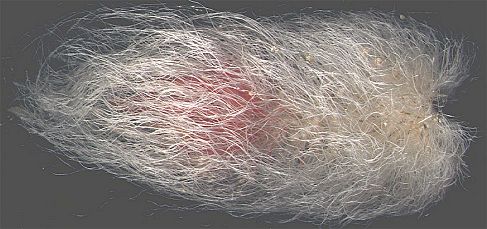 Pech gehad / Unfortunately...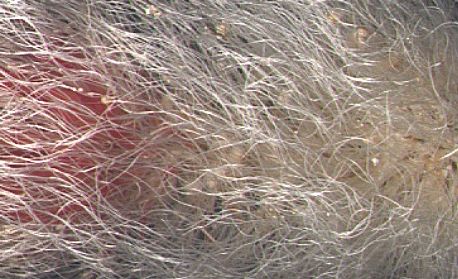 Waarschijnlijk is de beruchte wolluis weer de boosdoener - witte dotjes, verscholen tussen de haren van de knop
Waxy aphids probably thwarted my plans again... - white tufts half-hidden among the bud's hair...

Meer succes had ik in 2003 / 2003 was more successful