Koningin van de Nacht - Queen of the Night - Selenicereus grandiflorus
(Cactaceae)
Vervolg / Continuation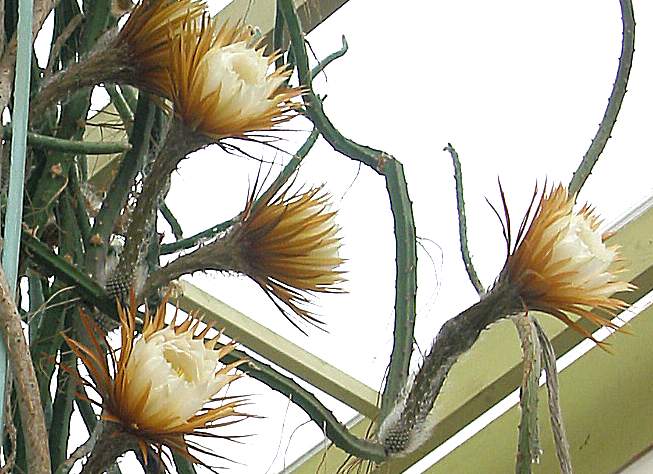 Op de avond van 9 juli 2002 wandelden we weer door het park, en zagen de beheerder, die een rondleiding gaf. We waren vlak bij de kas, en op ons verzoek deed hij de deur open, zodat we de toen bloeiende Koninginnen van de Nacht van dichtbij konden fotograferen. Weliswaar bleken de knoppen wat minder open dan op 29 juni, maar het resultaat was beslist de moeite waard.
Wat mij wel tegenviel, was dat er van een speciale geur van de bloemen niets te merken was.
Bij de witte Epiphyllum was een vrij doordringende citronelgeur waarneembaar zodra de bloemen zich openden, en ooit heb ik gelezen dat de Koningin van de Nacht een soort vanille-geur zou verspreiden.
Er bloeiden nu echter wel 15 bloemen in onze directe nabijheid, die helemaal nergens naar roken...

On 9 July 2002 we took an evening-walk through the park again, and were so lucky to meet the park-keeper leading an excursion. In the vicinity of the greenhouse, he was willing to open the door of the greenhouse for us, so we could take photos from near-by. Though the flowers hadn't opened as much yet as on the 29th of June, the results were worthwhile, so on this page I publish these pictures too.
What disappointed me, however, was the lack of any fragrance from the flowers. At the opening of the white Epiphyllum a scent of citronella filled the atmosphere, and I read somewhere that the Queen of the Night should smell of vanilla. About 15 flowers opening in our direct presence didn't produce any smell at all...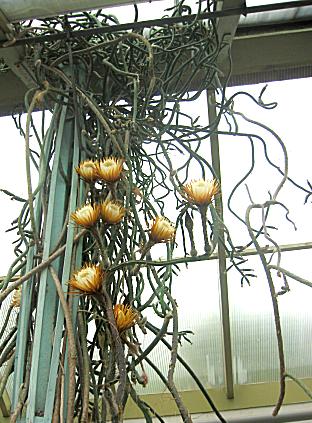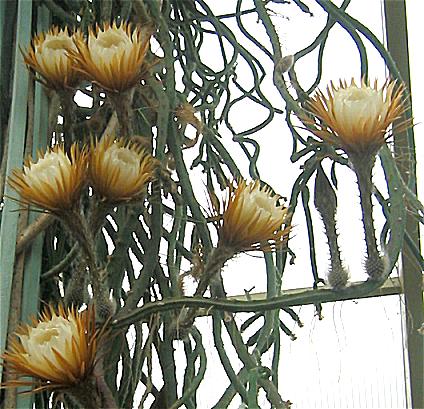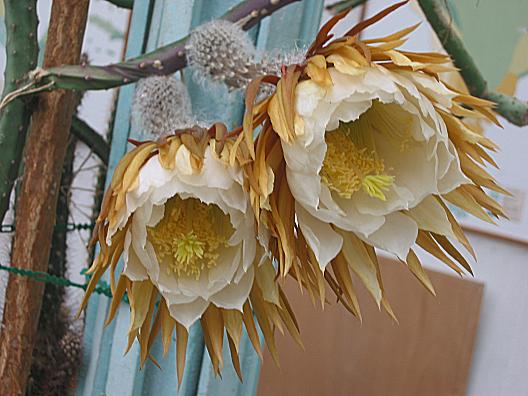 Gedetailleerde stampers en meeldraden / Detailed pistils and stamens



Zijaanzicht van dezelfde bloemen / Side-view of the same flowers

Terug naar bezoek aan Bos van Ypey in juni 2002 / Back to visit to 'Bos van Ypey' park in June 2002

Eigen resultaten in 2003 / My own results in 2003