Fuchsia colensoi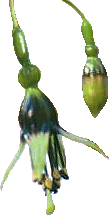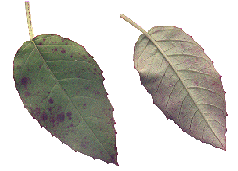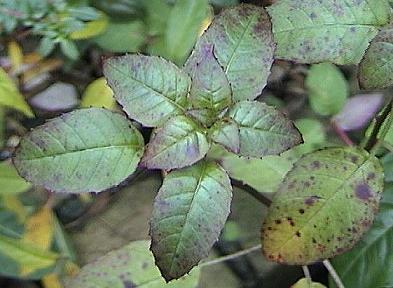 Botanische fuchsia / Species

Deze weinig opvallende plant, afkomstig uit Nieuw Zeeland, bloeit zelden, en als hij dat doet op het oude hout in de herfst. Ik heb hem nog maar één seizoen, er is dus nog geen oud hout en dat hij (nog?) niet bloeit verbaast me dus niets. Toch zet ik 'm op de site, omdat hij een onmisbare rol speelt in verschillende "straten" van J. de Boer, die ik al besproken heb. Van Straat Florida en Straat Holland is F. colensoi de vader (de stuifmeelgever) en van Straat Cook de grootvader van moederskant.
Volgens Jan de Boer is hij winterhard, maar om 'm te laten bloeien kan hij 's winters beter in de kas staan.
's Winters laat deze fuchsia het blad vallen, evenals de drie bovengenoemde "straten".

This rather inconspicuous plant, originating from New Zealand, seldom has any flowers, and if so, only on the old wood in the autumn. I've only had it for one season yet, and so there isn't any old wood, so I'm not surprised there are still no flowers. Nevertheless I'll put some pictures and information on the site, as this plant plays a very essential part in the making of several "straits" of Mr. J. de Boer, of which I put pages on this site already. F. colensoi is the father (pollinator) of
Straat Florida and Straat Holland, whilst it is Straat Cook's grandfather on the mother's side.
According to Mr. J. de Boer it is winterhardy, but to have it flowering it's better to put it inside during winter.
In winter the plant drops its leaves, just like the 3 above-mentioned "straits".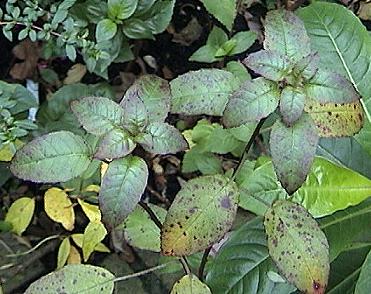 De vrij kleine bladeren, aan lange dunne opgaande takken, zijn gebronsd en gespikkeld
The rather small leaves, on long thin upright branches, are bronzy and speckled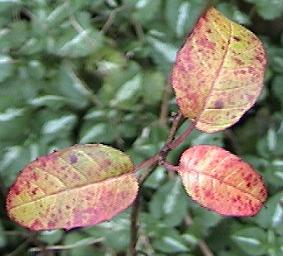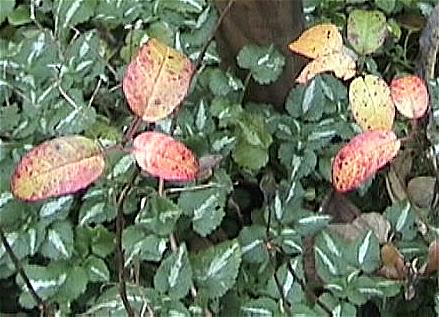 In de herfst kleuren de bladeren rood en geel voordat ze vallen
In autumn the leaves turn red and yellow before they drop off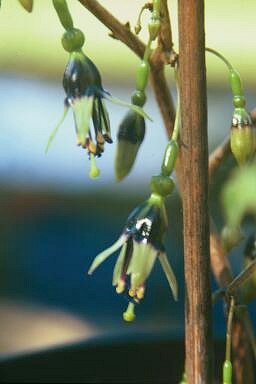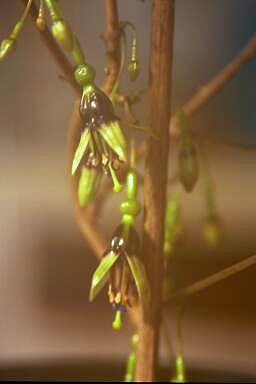 Fuchsia colensoi in bloei / in flower. Photos: Margaret A. Baker (UK)

Maart 2002.
Hoewel mijn eigen plant geen bloemen heeft gehad tot nogtoe (één onnozel knopje in de herfst, dat door de kou toch nog afviel), hier toch een paar mooie foto's van de bloei van deze fuchsia-species. Ze werden mij toegestuurd door Margaret A. Baker uit Somerset (Engeland) die de plant in het vroege voorjaar in bloei had. Ze schreef dat de plant in een warme vochtige kas stond, temidden van allerlei andere. Voor de bloei viel bijna al het blad eraf. De plant kreeg regelmatig bemesting die bloei bevorderde.

March 2002.
Although my plant didn't bear any flowers up till now (last autumn there was one small bud which dropped off, probably because it had been too cold), I've got some lovely pictures here to show what the flowers of this species are like.
Margaret A. Baker from Somerset (UK) sent them to me, she had a flowering plant in early spring. She writes about the circumstances of her plant:
"It was in a warm humid greenhouse crammed in amongst other plants. It dropped nearly all its leaves before flowering. May still be relating to southern hemisphere. High flower based feed on regular basis."




Stratenplan / Straits 1, 2 & 3